Yes, the countdown is on! Two more days and then Katie and I are off to retreat :o) WOO HOO!!!! I started packing last weekend. Every year I say I'm going to reduce the amount of stuff that I bring, and I have somewhat, but there is still a carload that ends up going. DH just keeps shaking his head. I think all the husbands do and rightfully so because you'd think we were going for a whole week! It adds up though. The necessities are a sleeping bag, pillow, chair, table, lamp, and a suitcase full of clothes. That might not seem like a lot to some but you try to reduce that even further ;o)

Then you have your stitching, which is your number one concern ;o) That gets packed and unpacked so many times that in the end, I have no idea what projects I am taking with me! I never learn either. In my head I have this great plan that I'm going to finish X number of things while I'm away but really, it's only two days of stitching and even Wonder Woman couldn't perform a miracle. But not two solid days because you have to factor in sleeping (which doesn't amount to a lot), eating (which keeps you hopping with all the food that comes out of that kitchen) and talking (which never stops). LOL! Do you see the dilemma? I have finally narrowed things down and I will be taking Flowers, a new Little House Needleworks project, a WIP LHN project, two ornaments and a new Abbey Lane Designs project. Now realistically, how many of those do you think I'm going to start, let alone finish!

I did complete a small project last night. Since I have fallen in love with my Snow Lady ornament, I have decided to keep her. Because of this, I had to come up with another ornament for the exchange so I stitched up another Needle Magic kit called Bear. I think he's pretty cute as well :o)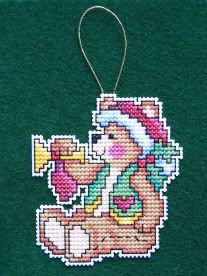 Last night was pretty uneventful. We never get any trick or treaters here because we are outside the city. In a way I miss it but in a way I don't ;o) We did have two surprises though. Our nephew dressed up for his first Halloween and I have to say that he is just the cutest!!!!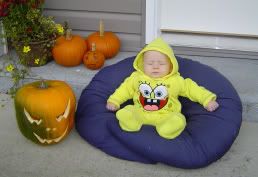 Brie also surprised us and made an outfit of her own ;o)