Wow! WoW! WOW! What an AWESOME mail day!!!! Someone out there must have known that I needed some cheering up because a real life stash 'explosion' has gone off here :o) Do you remember back in my November 6 post, ACK! SNOW!, I mentioned that I had won the Pink Grand Prize from Stitches N Things? Well, I got to pick up that parcel at the post office today, along with a parcel of fabric from a wonderful friend of mine! A HUGE thank you Shirley :o)

My initial order with Stitches N Things was for the gorgeous Pink Afghan pattern by Dutch Treat Designs :o) I would like to tackle this next winter after I've gathered all the needed materials. It will be a very treasured piece. I also added the Winter 2006 issue of Sampler & Antique Needlework quarterly (I wish we could get that here!), two small surprise packages and one large surprise package. As you will see below, these packages were WELL stocked! I also received two skeins of Watercolors (pink but I'm going to have to find out the exact color) for making donations to the fundraiser :o)



One small surprise package contained ALL of those ceramic buttons you see. There are 36 buttons in total and the cost was only $2! The second small package included three heart beads, a skein of DMC rayon floss (30368), a skein of DMC wool (8408), a skein of Gloriana Silk Thread (Cottage Woods and GORGEOUS!), a spool of Au Ver A Soie (325) and two ceramic buttons by Debbie Mumm. The large surprise package contained God's Lighthouse by Crossed Expressions, October Cat Scissor Fob by The Needle's Content, Easter and Berry Sweet by Trail Creek Farm, Slice Of America Pie Kit by Erica Michaels, a piece of 16 count antique white Betsy Ross and the August pattern AND frame by Mount Forest Frame Works.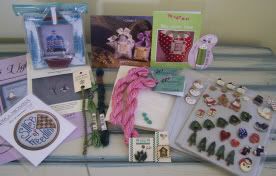 Now to reveal my Pink Grand Prize from Stitches N Things breast cancer fundraiser day...



Okay, you can close your mouth now ;o) That's a lot of stash isn't it! I'll try my best to list it all. Patterns consisted of I Am So Thankfull and Sweet Dreams Sweetie by Trail Creek Farm, The McIntosh Apple (with fabric and thread) by Eventide Designs, Kensington Rose Sampler Kit by The Sweetheart Tree, Seasons Of The Heart (February) by Heartstrings, Shades Of Pink Heart and The Key To Christmas by Mosey 'n Me, Find Your Song by My Mark, Smile (with fabric and thread) by La-D-Da, Embrace (with frame!) by Sam Sarah Design Studio, Haunting Favors by The Cricket Collection, You're A Star by Waxing Moon Designs, Rejoice by Bizzi Creations and a book called A Celebration Of Stitching which includes a small pattern by our very own Dragon Dreams!!!! I'm not done yet ;o) Fabrics included two baby bibs (one small and one large), a half a yard of 28 count gold and navy stitch band, a half a yard of 16 count lavender and white stitch band, a yard of band (linen) that would be ideal for a chatelaine, a piece of 32 count dyed linen, a block of Ann Cloth in rust and beige that would be perfect for a pillow and a half a yard of 22 count Christmas Red Softana. Wait, there's more! There is a lovely set of note cards by La-D-Da, a Tuckable Needle Book by Olde Colonial Designs, a Christmas Linen Scents Holly Kit by Cross My Heart, a spool of Kreinik cord AND a Plumpers Kit (Santa With Heart) by Trail Creek Farm that includes THE PILLOW! ALL of this was jammed into that lovely Gentle Arts canvas bag that you see in the picture :o)

I'd say this high is going to last for the rest of the day ;o) How many of you bet I'll still be rolling around in my stash when DH gets home? LOL!