WARNING!
Due to some extreme silliness and odd behavior, viewer discretion is advised. Please refrain from eating or drinking while reading the following blog entry.
What-a-weekend! I would have to say that this was one of the best stitching retreats to date. Not only did we catch up with old friends, stitch, shop and eat but we had tons of laughter and we all know that laughter is the best medicine :o) I knew it was going to be an interesting getaway once the tata tassels were found but more on that later ;o)
As expected, I was too excited to stay in bed so I was up bright and early on Friday morning. Most of the car was already packed the day before so after my shower I quickly packed my clothes and I was off to pick up
Katie
. Luckily my co-pilot was just as excited and had all her bags packed as well, LOL! It was close to 9 am when we left the city and all our worries behind.
We arrived in Moncton shortly after 10:30 am and our first stop was the LNS, Because You Count :o) I admit, I was 'really' good even with my one month stash starve having just been lifted. I picked up a couple of patterns that I really wanted; Birdhouse Row and Snowmen Gathering (both by Imaginating Inc.), a skein of WDW (Cocoa), two bat buttons (by JABC), a piece of 14 count perforated paper and two fabric cuts. Our next stop was Michaels for some floss and I also got a great deal on a ready made 8 x 10 forest green velvet mat with a gold mat underneath. Before heading to lunch, we made a quick stop at Old Navy and Roots. Katie and I quickly agreed on Lonestar as our restaurant of choice and we had plenty of fresh nacho chips with yummy salsa to devour. Of course Katie got to indulge in a margarita or two ;o)
The last stop was Champlain Place. The Disney Store was a big disappointment but Laura Secord sure wasn't! Dark chocolate is good for you, right? At the very last minute I wanted to check out La Senza for some pajamas. The brightly colored red nosed reindeer set must have been calling our names because both of us ended up buying a pair :o) What we failed to see before plunking down our money was the new 'naughty' section of La Senza where there was plenty of lace, tata tassels and even a whip! Of course I KNEW that after seeing these it was going to set the tone for the rest of the weekend, lol! Since we were so organized this trip, we made it to camp around 4:30 pm and before dark set in. It's always a dash to claim your sleeping quarters and we soon found the cabin that would be ours for the weekend. Next it was to set up our stitch zone and...relax. Whew!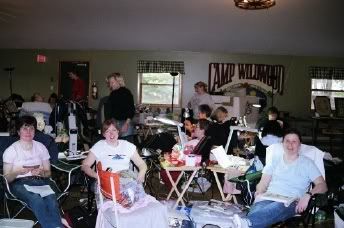 The ladies trickled in and soon the lodge was packed with chairs, tables, lamps and stitching. I estimate there were about 60 ladies. There were a lot of regulars that were missing this time. The Show & Tell table quickly filled up with beautiful pieces of work. I brought my Walking In A Winter Snapperland, A Bee C pillow and First Aid Bear kit for the table. My exchange ornament was placed on the tree and then I settled in for a good night of stitching. I pulled Flowers out of my tote and continued on with the backstitching.
On Saturday, I somehow managed to crawl out of bed and shower in time for breakfast. You definitely do not starve at these retreats! If their goal was to put meat on my already plump bones, they succeeded. LOL! Did I mention we also have a mini NS at these retreats???? You bet! I went over and browsed quite a few times and again, I behaved myself :o) I did pick up a few more patterns though - Bucky The Snowman (The Trilogy), Christmas Motif Sampler II (JBW Designs) and the Mirabilia kit for her Easter Fairy. Would you believe the kit was half price! I'm still patting myself on the back over that deal ;o)
I dedicated half the day on Saturday to backstitching Flowers and I made great progress. Later in the afternoon I pulled out the 12 Blessings Of Christmas and started on Caring. Shortly after supper, Katie and I pulled on our new reindeer attire, along with our homemade tata tassels. Thus the birth of The TaTa Tassel Twins! I must say we were quite a hit and with all the camera flashes going off, you would swear that the paparazzi were there. I'm afraid to know just how many pictures will be floating around ;o) No wonder our husbands shake their heads when we tell them our tales from retreat, lol!
So what do you think? Do we make a great fashion statement or what...
Sunday arrived much too quickly :o( I finished Caring and started another block called Faith. Back in October when we were sent our retreat invitation, we were asked to bring in a pink item that would be placed in a gift basket and raffled off to raise money for breast cancer.
Well, there were enough pink items to fill FIVE big baskets and a reserve bag that will be used at the spring retreat. These breast cancer baskets were raffled off and as a group, we raised $555.75 that will be donated to The Run For The Cure. WOW! How awesome is that! The ornament exchange took place after lunch and I said goodbye to my bear and a big hello to a lovely piece called Moonlit Joy Ride (Full Circle Designs) that was in this year's JCS Ornament Issue.
Finally the weekend came to a close and we all packed up. There were lots of hugs, best wishes and hopes to see each other at next retreat. The drive home was uneventful and a little depressing but Katie and I have even more good memories to keep. I wonder how many more years we'll do this. The camp now has a new wheelchair ramp so I guess that even when we're 80 or 90 with lots of grey hair and walking with the assistance of a cane, we have no excuse not to be there ;o)