Wow, I can't believe that it's been almost a week since I last posted! I have no idea where the days went to, let alone the end of November. As I write this, I am looking out my window at the beautiful snow that is steadily falling and it truly is a wonderful sight. What do you think?



Now ask me tomorrow what I think of this horrible "white stuff" and I guarantee it will be a different story ;o)

With the arrival of this snow, along with the month of December, it means we are all the more closer to the big day. To be honest, I can't seem to get into the holiday spirit. My Christmas cards remain in their box, our annual letter has not been written and the Christmas lights are not up. I don't even want to get into what I think about getting a tree this year :o( I am happy that our ornaments have been bought though. Since our very first Christmas together, DH and I have exchanged ornaments :o) DH receives a pewter ornament with a note engraved while I get a handmade ornament from the same lady that comes to the Christmas Craft Fair on the first weekend of December. This is my ornament for this year :o)



I really hate the fact that I sound like Mrs. Scrooge but it's been hard seeing family traditions go by the wayside each year :o( DH and I used to host a Christmas party for friends and family and it was something that I really enjoyed doing. Once my energy hit the zero level, we had to give it up. Brie missed her Santa visit this year and I was quite upset about that. Maybe I would be in a better frame of mind if it weren't so consumed with LTD and work at the moment. Sigh!

On the stitching front, I have been making great progress on Gathering Eggs!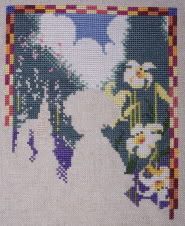 Notice the big difference from the last picture I posted :o) As with all my bigger projects, I usually end up with a love/hate relationship. There are days when I really love her and I find the colors so bright and uplifting. Then there are other days when I'm disliking her and thinking that the colors are so garish and awful. I'm doing quite well at avoiding the urge to start something new but there are days when I'd love nothing better :o) Lately, I have been working away at my 2007 Stitching Goal List and it should be interesting to see how well I do next year. I would have to say that making a list for 2006 was somewhat of a success. I managed to finish six out of the planned eleven, two of which were big projects. There's still time left but I doubt I will squeeze in any more from the list before the clock strikes midnight on New Year's Eve ;o)