UGH! This was a project I thought would never end! It's not that I don't like the piece because I really do and you'll see why in a minute but for some reason, it just took SO long to stitch. I don't know if my mojo just got kicked aside or that maybe my interest wasn't there but I'm happy to say that it's 'finally' done ;o)

Here is Esperance by Danybrod -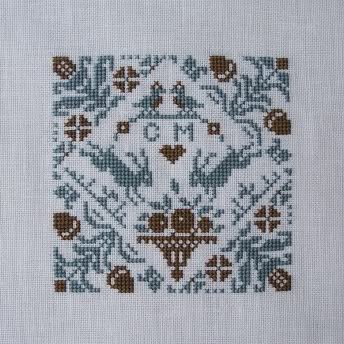 I stitched it on 32 count Antique White linen with the recommended threads, DMC 610 and 926.



My 'plan' is to finish this as a pinkeep and I have the perfect fabric (I think) that will do the job. I might even add a scissor pocket in the back :o)

It seems I'm going to have some extra time on my hands for the next two weeks. We'll see how focused I can get and maybe after I finish this pinkeep, I can stretch a few pieces and get them into their respected frames! I know I'd feel a lot better if I could clean up those few things and not have them staring at me every day ;o) LOL!

So this ornament sized piece completes the twelve that I had set for my goal! I've got two more little projects on the go right now but I've got to get back to Sabrina. I have no idea where this year has gone so far and if I'm to have her finished by the end of December, I had better get my bottom in gear!