Yesterday was another gorgeous day in The Maritimes! It sure didn't feel like October. DH and I took Brie over to Mactaquac Provincial Park and walked the Beaver Trail. They have a handful of beautiful walking paths through the woods but we decided on this one as it was the shortest and easiest one for me to do :o) We weaved through woods and onto boardwalks that took you across beaver ponds. I was hoping to see one of these little critters but after much searching, I wasn't able to come up with one :o( I'm not even sure if they still have beavers there but there was plenty of evidence that they had been there at one time. All along the pathway you could see the remnants of their work. Have you ever seen a tree chewed down by a beaver? It's an amazing thing to see. Some of the trees were about a foot in diameter!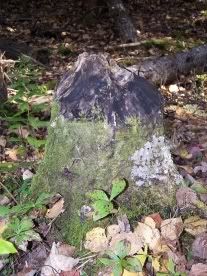 During our walk I was able to shoot some pictures of the dragonflies that were flying about. Here's one that turned out really well.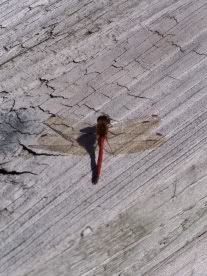 Our restless mood continued when we got home. You know that feeling when you're really hungry for something but you don't know what it is that you want? So we headed into town and soon found ourselves at a Thai restaurant for supper :o) DH and I had been eyeing this place for quite a few months so finally we decided to try it and I have to say, we were not disappointed! The food was delicious and the owner was a delight! You got the full feeling with chop sticks and free tea. They even had avocado milkshakes! I felt rather guilty using my fork but we would still be there if I had tried the chop sticks. LOL!

It was neat trying something new for our Thanksgiving Day meal but I still miss the traditional turkey supper. At least we are not loosing out completely as we are having a belated Thanksgiving dinner next weekend up at the Miramichi! And I did hear mention of a pumpkin cheesecake being made...