Where is the time going? I can't believe that we're into October already and that means that four more weeks from today is.....RETREAT WEEKEND!!!! Yahoo! I have officially started the countdown :o) I'm really looking forward to this retreat as I never made it to the spring one because there was just too much happening at the time :o( Plus, that means that my stash starve will be lifted as well, lol! For those of you who are not familiar, in New Brunswick we are lucky enough to have a stitching retreat that is held twice a year, spring and fall. It's within driving distance and it's affordable. It's held at Camp Wildwood and although it's not The Ritz, we think it's good enough for us ;o) I mean, what could be better than sitting on your butt stitching all weekend and only having to get up to eat, sleep and use the facilities! If life were only that simple...

It's been a long week but I have a long weekend to look forward to :o) DH has officially left me to go on a hiking trip so I'm home alone with Brie and Pickles. I've got my Chunky Monkey ice cream, my stitching all ready to go and a good handful of movies, including Troy, waiting to be watched. Drool :oP'''' I think my stitching has forgotten who I am because I just have not had the energy to work on it like I normally do. That's what happens when you go back to the real world :o( I have made some progress on my Flowers by Jeremiah Junction and even though she is headless, she's coming along nicely.



I have been given an extra little project to complete over the weekend thanks to a certain 'trio'! He shouldn't take long to complete and I'll post a picture when he is :o) I thought I would finish him into a cube but I've got something simpler up my sleeve...

This past week was mail heaven for me! I finally got my color catalogue from Told In A Garden and my fall catalogue from Nordic Needle. Unfortunately that backfired because I found a few more TIAG designs I don't remember seeing before so that means they have been put on the 'want list' for later purchase. Nordic Needle also had a few things of interest as well so you can only imagine my agony. I also received a whack of fabric!!!! And no, the purchase and trade were arranged 'before' my agreed to stash starve so it is still legitimate girls :o) Doesn't all that wonderful fabric just get your mind going with all the new project possibilities????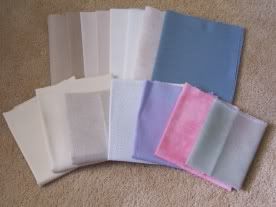 Well, it's off to relax, put my feet up and stitch awhile before the 'princess' awakens for her supper :o)