Whoohoo! My favorite time of year is finally here! I just love the fall. The first indication for me starts after the first weekend in September when all the little kiddies go back to school :o) After that, it's smooth sailing until the first snowfall. Autumn brings around so many wonderful things. I can't get enough of that smoky smell that fills the air. The nights are cooler and each day brings with it a new look to all the trees sporting their new colors of red, orange and yellow.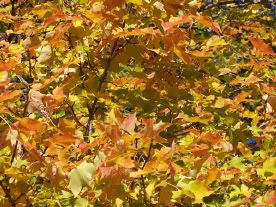 Of course there is apple picking and I picked up my Honey Crisp apples last night :o) Never mind the $6 price tag for just five apples. They are to die for! Yum! Then you have your traditional pumpkins dotting the front doorsteps of houses and piled up in front of vegetable stands just waiting to be carved for Halloween! And last, but not least, October is Breast Cancer Awareness month. Now you are probably wondering why that would be on my list of favorite fall things. Well, I'm a survivor myself. Why do I want to share my story? Because I never thought it could happen to me. I was young, I didn't smoke and there was no history of breast cancer in my family. I thought it was the last thing I had to worry about.

In 2000, I was 28 years old and looking forward to a new millennium, thought to be filled with new dreams and starts. My DH had just sold the family landscaping business that we both worked at so the roads were open to new possibilities and travels. At the end of January, I went in for a breast reduction surgery. My breasts were not overly large by any means but they were very heavy and I was finding it hard to carry them around with me :o) DH was very supportive and was even the one that encouraged me to do it in the end. I had never had a surgery in my life and I had never stayed in a hospital overnight, so it was a bit of an adventure. Or so I thought...

Two weeks later I never gave a second thought as to why my plastic surgeon asked me to come in earlier than my original appointment time and the flags really didn't go up when I walked through a packed waiting room, right into his office. Luckily my mother had driven me there because not two minutes later I was told that I had breast cancer. Words cannot describe what you feel when news like this is broken to you. Sure there is disbelief, panic, anger and sadness but there is something else that defies words.

I was told that while they were going over the breast tissue that was taken from both breast during my reduction surgery (we didn't know this but any tissue that is removed from the body is examined), they cut through a 2cm in diameter tumor that had been in my right breast. As a result, they were not sure if they had removed it all or if there was more in there to come out. The tumor was located close to my chest wall and therefore could not have been detected when I had my breast exam before the surgery. An hour later I was sitting with another surgeon who was telling me she wanted me back in the hospital for more surgery as soon as possible. I was told that I had evasive and non-evasive cancer and that I was a Level 2. It was not known if my lymph nodes were affected and whether the cancer had already spread. This is when the anger and panic took hold and I refused to do anything until I knew more information.

Over the next two months, yes two, I covered every angle I could think of. I researched different surgeries, had "many" tests to see if the cancer had spread (I did have a big scare with a spot on my liver that luckily was not cancer), met many specialists and learned what my odds were. It really becomes surreal when your life is referred to in percentages. So in April 2000 I returned to the hospital for the second time in my life and had a radical mastectomy of my right breast and a further reduction of my left. Lymph nodes were taken and a saline implant was put in. Two weeks later we got the good news that all was clear and then it was time to start my treatment. After much debate, I decided against radiation and chemotherapy. DH and I were still young, with no children, and I didn't want to chance anything. Basically, it was a 50/50 draw. Over the next five years I took Tamoxifen on a daily basis and for two of those years, I got Lupron shots every month. I went into complete menopause at age 29 and let me tell you, I'm not looking forward to going through it a second time! LOL!

Now it's almost seven years later and I'm still cancer free! I'll never know if I made the right decisions and I highly doubt I will be able to have children after the effects of the treatment and what it has done to my body. I bare the scars of my fight every day and every day I am reminded of what I went through. For my fifth year anniversary, I got a pink ribbon tattooed above my right ankle as a symbol of an accomplishment.



I am a firm believer that things happen for a reason and this happened to me so that I would sit back and enjoy life. I have and I am. I also have my guardian angel, DH, by my side and he is my biggest supporter. I am a survivor!

I know this may sound like a health campaign but to me it's very important :o) So ladies, be aware and take charge of your body. Keep an eye out for lumps and if you're not sure, talk to your doctor. If you are of age, request a mammogram and continue to do so. Get those puppies squeezed! I know it's no fun but early detection is the key! And as someone once said...."breast cancer does not discriminate".