On my way home from work today, I stopped in at Fabricville and picked up supplies for two cubes. To date I have no idea what cross stitch pattern will go with them but I thought if I had this stuff handy, it might inspire me :o) I've been on my stash starve for eleven days now and I'm hoping this doesn't count as actual stash. I'm sure if I ask Shannon, she'll come up with some loophole that will save me. LOL!

I bought some lovely blue Christmas fabric with silver snowflakes on it. They had rolls of Christmas ribbon for 50% off so I was able to find some that match rather well. Maybe Dragon Dreams' Peace On Earth dragon from the 2002 Just Cross Stitch Ornament Issue or A Cool Gift by Mosey 'N Me would look great with it. I guess we'll just wait and see!



Since Boo was 'originally' planned for a cube, I thought I should at least try and make one for Halloween. I spotted an adorable rabbit dressed up as a ghost (by Sandi Gore Evans) in my stash so that might be a good one to do. It looks like the ghost fabric glows in the dark but the lady at the fabric store said no. I'm going to be trying it in the dark tonight to see :o)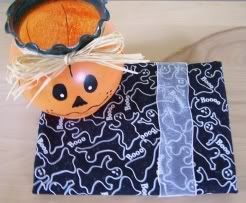 After all this talk about food with Katie, Faith Ann and Shannon AND scarfing down two bags of pink M&Ms, I decided it might be fun to list five of my favorite restaurants. I've picked five from my hometown and five that we've eaten at while on our travels. Maybe this will inspire you to try something new tonight :o)
Top Five Restaurants In My Hometown
Brewbakers - hands down THE best and most delicious! Unbelievably difficult not to spend a lot of money here.

Seasons Chinese Restaurant - if you want mouth watering Mandarin or Szechwan cuisine this is the place! Not a romantic atmosphere but the food is to die for!

The Blue Door - we've been here twice and have not been disappointed. The service is another matter though.

Snooty Fox - all I can say is deep fried pepperoni!!!!
Top Five Restaurants On Our Travels