Even though I haven't posted any pictures of my stitching, I have been busy, busy, busy :o) I'm going to be bad and show you the progress picture but I'm not going to tell you what pattern it is. HA!



Kind of makes you go hmmmm....huh? What the heck is it? Let me just say, I got the inspiration one day while I was walking the beach. That's the only hint you're going to get for now ;o)

I do have one question though; this piece is 124W x 86H so would you consider it a medium or small piece? I'm thinking it would fall into the small category but I'd like your opinion.

I think I had mentioned that I had another pillow that I wanted to put together and it's finally done! This is Peace Love & A Cure by LK -



I was able to track down the same fabric that she had on her model and I love it! It's so delicate and pretty :o) The only thing I'm second guessing is the overall size of the pillow. This one is 16 x 16 but I'm wondering if I should have stayed with a 14 x 14. Here's the pillow sitting on top of my quilt rack that holds the pink ribbon quilt that my mom did for me -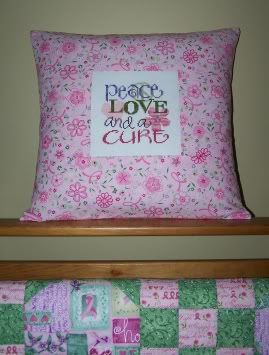 I am just SO excited because last night I found out that I won Karen's giveaway!!!! Eeeeeeeee!!!! What a great (early) birthday present ;o) LOL! Thank you SO much Karen. I can't wait to receive it!