As promised, I have more stash to share with you :o) While Mom and Dad were away, first in Florida and then in Indiana, they picked me up some goodies -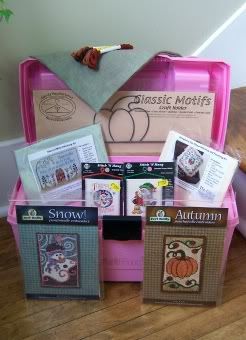 The pink tote is thanks to Laural who had posted the one she bought on her Blog. I'm not sure what I'm going to keep in it yet but I'm sure I'll find a good use for it ;o)

Do you see that awesome pumpkin hanger? Now how perfect is that! I'm going to have to find the right project to hang from it.

The two patterns at the front are punchneedle. I have yet to try it but I thought these patterns were just too adorable. They're by Jeri Kelly and have the pre-printed weaver's cloth with the pattern. A very nice product.

I ordered two kits from The Gift Of Stitching and was very impressed with how they are done up. I got Starr Of Mine by LHN and the Strawberry Pyn Pillow by Praiseworthy Stitches. Shipping is free on all their items so that's a bonus if you ask me!

I picked up a couple of little kits by NeedleMagic. I know they're on Aida but sometimes these are perfect for trips in the car :o)

The rest of the items are part of my birthday stash :o) Drema sent me four skeins of NPI silk (for Autumn At Hawk Run Hollow) and a piece of 30 count Tin Roof by WDW.

There's no sense having the fabric if I don't have a plan for it ;o)



It will be used for The Totin' Hare by La-D-Da. Do you think I could resist this pattern? LOL! Drema also included two patterns by The Drawn Thread, It's Halloween and Random Thoughts.

The smaller chart is a limited edition by Q-Designs and all proceeds from the sale of this pattern will be donated to the Susan G. Komen Race For The Cure.

Mom and Dad also picked up Joyeux Noel for me. Would you believe it was only $15? :o)

And finally...my coveted copy of the 2010 JCS Christmas Ornament Preview issue -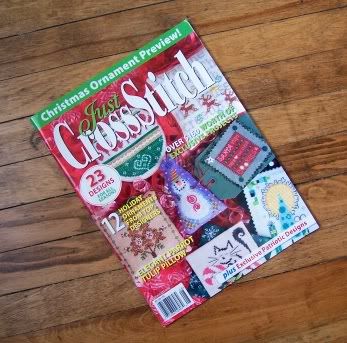 I knew it would be forever and a day before it reached my part of the world and I was not willing to wait that long ;o) I just LOVE the pattern by CCN and of course Ink Circle's Summer Mandala is included in this issue as well.

I want to thank everyone for welcoming Popcorn :o) Get used to him because he'll be around a lot! LOL!

So how much enabling did I do?