Needlework Shop -



As you can see, it's still under construction but it's going at a pretty good pace. How they have the upstairs windows hung in mid air like that, I'll never know ;o) The brickwork on the foundation should be done in another day and then the upstairs walls will go in. The architect, CCN, did a lovely job designing this place don't you think? LOL!

LOOK -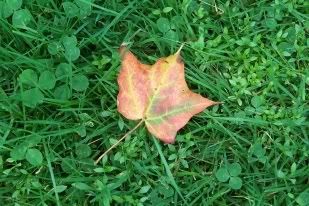 When I saw this there was a HUGE smile on my face :o) That means that fall is just around the corner AND it's my favourite time of year. The nights have been cool and I've been enjoying that but the mosquitoes are still out >:o( DH is talking about going camping in Maine sometime during the month of September. Brie and I are all for it!

Today I went and had FOUR vials of blood taken out of me. It started hitting me on the way home even though I had some apple juice and a donut ;o) You didn't hear the donut part. Shhhh! The girl that took my blood was really good but then again, I have 'wonderful' veins. I almost associate those nurses with vampires because they mention this every time I go in. LOL!

On my way home, I took a quick peek to see if I could find myself a strapless bra for my dress. Wouldn't you know it...I did! Not only is it black, my size and seamless, it's got straps so you can convert it to a regular bra AND it comes with those 'invisible' straps :o) When I got in the dressing room, I stuffed the girls in and put my t-shirt back over top to see the effect. Not only does it hide 'the' nipple but it makes the girls look like twins again. My only problem, trying to stay in that thing!

I'm almost embarrassed to say but I've been nominated for another award {blush}. Jennifer awarded me this -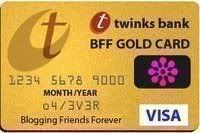 Here are the rules:

1) Only five people allowed.
2) Four of them have to be dedicated followers of your Blog and one has to be new and live in another part of the world.
3) You have to link back to who gave you the award.

Here are my nominees and again, they are in NO particular order -

Mumsy - as you know, this is my mother and she has been an avid reader and fan of my Blog.

Karen - I know you're not Blogging at the moment girl but we've got a lot of history together.

Lori-Ann - a retreat buddy that Katie and I converted into a Blogger buddy.

Nancy - the queen of scrapbooking and an artist.

Joanne - an Aussie with a flair for stitching and cake decorating.

To round off my day, I just got THE most awesome, life changing news!!!! My mind is racing with uncertainties, my face is flushed with happiness and my heart is relieved :o) I hate to be a tease but I cannot say a word for the time being. I know, I know! But there are some things that have to be taken care of first before 'the cat can be let out of the bag'. Stay tuned.