Thanks to my DSIL, C, DH and I ate in style last night...hydro cooled, peaches n' cream corn on the cob and LOBSTER! Mmmmm-mmmmm! It seems like forever since we've taken a trip down to Maine so this was definitely a nice treat :o) I can't remember the last time I had lobbies. The corn is awesome too but that has to come from the Saturday market and we don't get there very often. Apparently, I sleep in too late for DH :oP

My four legged friend seems to be quite the popular little girl lately! Not only did TC send her a toy made by Shannon but she also received another package in the mail yesterday. This time it was a pink toy purse (with squeaker) from Daisy, Tammy's little one :o)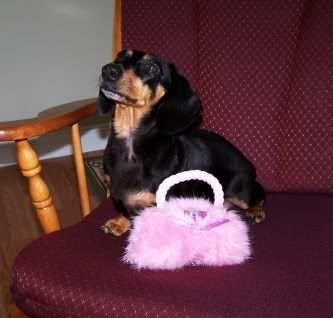 Brie absolutely LOVES it! I made the huge mistake of squeezing it while Brie was sleeping. LOL! I swear, sometimes she can sleep through an earthquake but squeeze a toy or open the freezer door and the next thing you know, you have two beady eyes looking right at you.

Brie is now walking 100% on her own as of this past weekend. She is learning to sit properly by using the muscles in her haunches and she can now do her 'business' unassisted :o) The number of accidents is zero since the end of last week too. We 'may' have finally figured out her new schedule! It's bad enough trying to keep track of one's own. LOL!

My exchange with Sonda arrived yesterday as well and she surprised me with some adorable doggy fabric -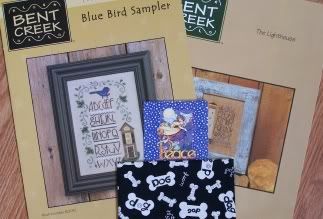 This will definitely get used :o) Thanks so much for the great exchange Sonda! We'll have to do it again sometime.

I'm really enjoying stitching Herb Garden -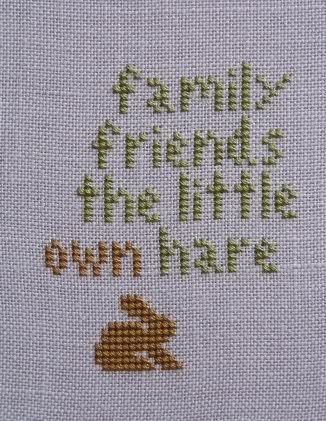 It's such a change to actually be cross stitching again! This piece is being stitched on the recommended 32 count Lilac linen and I almost dropped when I actually had that in my fabric stash. It's such a pretty shade. I had bought a piece about a meter long when a LNS closed.

I came up against a snag with my Christmas ornament exchange idea. I know I have the fabric but...I can't find it! My computer/craft room really needs to be organized again. I've got a backup color and I'm hoping it will work out much better anyway.

Have you seen the contents of the JCS Halloween Issue yet? If not, check out their site where they have a little slideshow. I'm really loving some of those Halloween ornaments, especially the one by La-D-Da ;o)

I want to thank everyone for all the nice comments that they left regarding Stargazer. You all are too kind! I hate to say it but she will be going into storage for the time being :o( She was supposed to be framed and ready for the fair in September but that's not going to happen. Oh well. There's always next year!