It's that time of year and luckily I didn't forget again :oS You see, Brie has been going to see Santa every year (minus one) since she was born. Unfortunately last year it slipped by and before I knew it, 'I' was the one in the 'dog house'. LOL! I enjoy going to these visits as well because all the money raised goes to help our local SPCA.

Sunday morning I got up, grabbed Brie and into the tub she went for a bath. I didn't want poor Santa to pass out from her notorious body odour ;o) I went through her wardrobe and picked out a cute snowman hanky to put around her neck. Surprisingly, when I told her we were going to see Santa, the car ride didn't seem so bad. Why did I end up with such a smart dog????

My biggest concern about the visit was whether she would poop or pee on Santa :oS Since her surgery, this can be a little unpredictable when she's excited. Thankfully, all went well and these are the shots we got -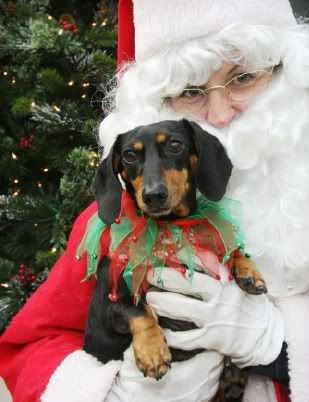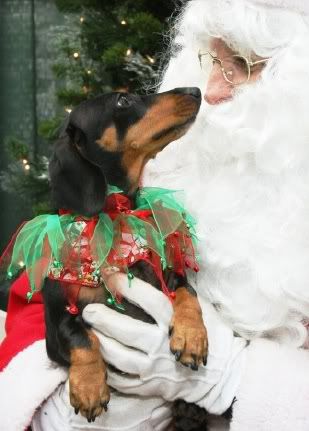 As you can see, she was given an added decoration around her neck. I was a little perturbed but I'm happy with the results. Since Brie was such a good girl, we went through the garden center to the ice cream counter and I bought her a little treat :o)

Unfortunately we didn't manage to get out of there without her peeing on the floor but that was partly my fault. And plus, with all those dogs, what do you expect! I was proud of her none the less :o) Little one had such a big day that she slept most of that afternoon. I wonder what she asked Santa to bring her for Christmas...