What can I say? If you've never heard of the book, I highly suggest that you go out, find a copy and read it. NOW! This novel has got to be one the most brilliant pieces of writing and it has even been compared to Tolkien's, The Lord of the Rings. It is by far the favourite book in my library and it's had a home there for many, many years. Richard Adams is a magnificent storyteller and by the time you are past the first chapter, you come to know not only the characters but the landscape that surrounds them as well. It's almost as if the story springs to life in your mind as you're reading along.

For those of you who are not familiar with the book, it's about a band of rabbits who decide to leave their current warren as it is about to be destroyed by the hand of man. Their dream is to find a new home and set up a better society than the one they are leaving behind. The story takes you through that journey and what it takes for them to eventually get there. By the end of the book, I guarantee that you will fall in love with Hazel, Fiver, Clover, Dandelion, Pipkin, Hyzenthlay, Bigwig, Holly, Silver, and Kehaar :o)

I read a review once where they compared General Woundwort and the Owsla to Hitler and the Nazis. And while I can definitely see this view, the story does not stray far from what our own society has evolved into today. We still don't live in a perfect world. It's ruled by government and corruption. Racism and inhumanity still exists whether we want to acknowledge it or not. Every one of us has an idea in our head of what our perfect world would look like and I think unconsciously we keep trying to find it.

That's one thing I love about this story. Hazel has a dream. He knows what he wants and he sets out to achieve it. The road there isn't an easy one by any means but it's his determination that keeps him going. He knows what will make him happy. How many of us can say this? I feel that after almost fifteen years of being together, DH and I are finally on our way to finding the happiness that we have been seeking. Don't get me wrong...I'm not saying that we've been unhappy all this time but it's almost like we end up just living from day to day, waiting until that opportunity comes along. Some find it faster than others but the constant remains the journey. There is always a journey.

So, how's that for deep thinking on a Saturday afternoon? LOL! I'll end this post on a lighter note then ;o) Over the years I have been trying to collect a set of Watership Down figurines that were produced back in the 70's (I believe). These are the characters that I have so far -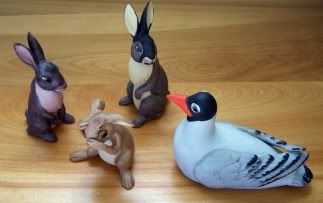 Stupid me packed these away before writing down the information that was underneath them :oS I really don't know much about them but I believe they were produced in the UK and there was the name New Orleans. I received two from a very special friend who was lucky enough to find them at a flea market and the rest have come from EBay. If anyone knows more about these or where I can get additional ones to complete my collection, plmk. Thanks!