Woohoo! I'm in the home stretch! Now that the JCS Ornament Issue is out, it looks like Christmas ornaments will be in the Q-Snaps for awhile :o)

This is Winter Joy by Sam Sarah Designs -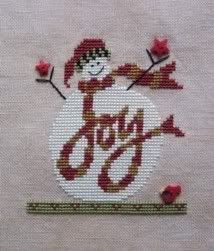 He was featured in the JCS Ornament Preview Issue. I used the same material suggested but I opted for DMC instead of the Belle Soie. That's a "little" too much money to invest in a small ornament right now but don't get me wrong, I sure would LOVE the silks ;o) I also just used one strand of DMC black for his face because the two ply looked to heavy in my opinion.

I'm not sure how I'm going to finish him just yet. Since I had all the colors out, the next project will be the companion piece to Winter Joy. It's called Winter Love and it's in the new JCS Ornament Issue. There is one thing I will point out though. The suggested DMC colors in the Ornament Issue are different than the DMC colors suggested in the Preview Issue, even though they both use the same colors of Belle Soie. I went with those listed for Winter Joy and I will use them again on Winter Love so they'll match each other :o)

I want to send out a HUGE thank you to Carolyn today. I'm not feeling the best and when DH brought in the mail, there was an envelope from her :o) Inside was an adorable Stoney Creek pattern book called Tricky Treats. Can you guess what the patterns are of???? PUMPKINS!!!! Thank you again Carolyn, you put a smile on my face today :o)

I want to thank all my readers who leave comments on my Blog. I LOVE reading what you have to say and sometimes you have me in 'stitches', especially when the topic has been somewhat...interesting ;o) If Rachael is out there, please send me the address to your Blog because it wasn't listed in your profile :o( I love wandering over to other Blogs and seeing what everyone is up to. Kinda like a nosey neighbour. LOL!