I went a little astray but I figured that since I already had all the threads out, I might as well complete the mate to Cuddle Up Snowmen 3 :o) Here is Cuddle Up Snowmen 2 by Stoney Creek -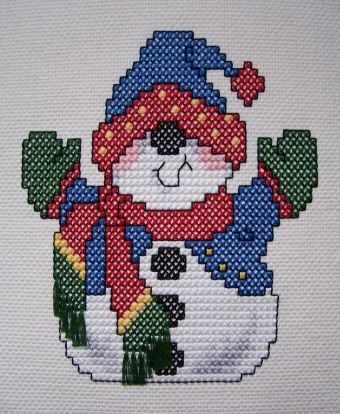 I love his little jacket. He's just so cute :o) I'm still not sure about the green fringe on his scarf. It was supposed to be red but I thought there was too much red in him already and changed it out. DH said he liked it so I guess it will stay.

Here is a picture of the two together -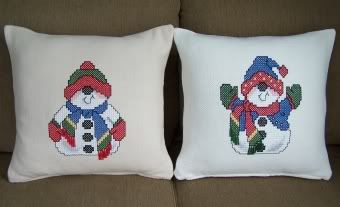 The pillows aren't the same colour. One is antique white and the other a light tan. They still go well together though and I'll keep them out on display for a little bit longer so that I can admire their cute little faces a bit more :o)

If you happen to look at my list of goals for 2011, you'll see that I considered this an ornament sized finish. When I categorize my patterns, I do so by stitch count and not by the size it will be when completed (32 count vs. 12 count, blah, blah, blah). These snowmen were 45 x 45 so as you can see, definitely ornament size when you look at it that way. Make sense?

A few days ago I started Christmas Rules by LK. I'm so excited about this project because Nia and I are doing it as a SAL :o) My plan is to have the header and first block done by the end of January and then a block a month until December, when it should be completed...

Today was my second low impact aerobics class and I seriously thought I was going to die! Once the class was over, K and I sat down and weren't in too much of a rush to leave. It was a good workout! I'm very pleased with the instructor though. Considering that I have Fibro, I am able to get out of bed the next day. Of course I have the typical soreness that accompanies exercise but it's not making me bed ridden. I also like the fact that I have K there to give me incentive :o) We ROCK! LOL!