I can't believe how time flies! We're now onto week 3. I hope you have enjoyed what you have seen so far :o) It's so fun picking out items to put up each week. Are you ready? Here you go -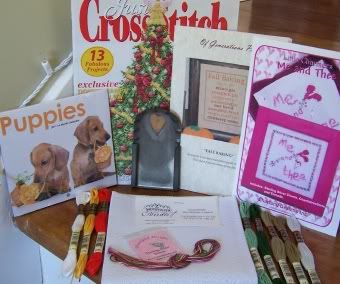 January 11 - the November/December 2010 issue of Just Cross Stitch. This is new but I do see a rip on the front cover :o( That may have happened while it was piled under all my rubble...

January 12 - this isn't really stitchy related but I thought a cute puppy calendar would be nice. Hey, you can keep track of you stitching with it! The picture on the front is my favourite ;o)

January 13 - how can one stitch without floss? Included is 8 skeins of DMC (white, 371, 372, 564, 606, 725, 986 and 3756).

January 14 - another new pattern! This is called Fall Baking by Of Generations Past.

January 15 - so far there hasn't been any fabric so this will get you ready for Christmas :o) It's hard to see in the picture but it's a piece of 28 count silver/white Metallic Lugana, 18 x 13.75.

January 16 - another new pattern but this one includes the threads AND a sterling silver charm! This one is called Me And Thee by Charland Designs. Perfect for Valentine's Day :o)

January 17 - and the final item for this week is a heart tin frame by Twisted Threads. I've had this in my stash for years now and have never stitched a pattern for it. I'm passing it on in hopes that it will be used :o)

Before I forget, I want to welcome all the new Pumpkin Stalkers to the Pumpkin Patch. It's been nice to see new faces and to check out your Blogs as well :o) I hope you will enjoy future visits here. The Patch is a pretty laid back place that not only combines my love for cross stitch and photography but it does have a little sense of humour too. LOL!

Sigh...I hate to do this but I feel I must :o( For those of you who want to enter this giveaway,

PLEASE

read

ALL

the rules (and there aren't many) on this post before commenting. If you can, let me know what your ID is if it's not easily picked out among the Stalker list. Just because you follow me in your Google Reader does not make you a Follower of my Blog. To have your name entered, you have to comment on that first post as well. If you leave a comment on another post, your name will not be entered and I will not track you down. Sorry but that's not my job ;o) I would hate to see anyone left out so if you have any doubts, please check the comment section of that first post to make sure your name is there. Thank you!

Please stay tuned for my second finish :o) WOOHOO!