Today it's sunny out, with no snow, but the wind is wild and C-O-L-D! This is the first real cold snap that we've had here. I really shouldn't complain ;o) I figure it's a good time to get some work done and post another round of goodies for you!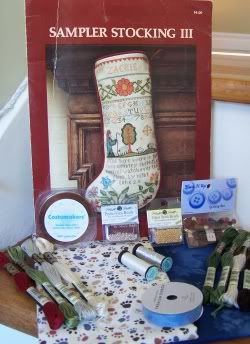 January 18 - a serious stitcher has to have more DMC ;o) Here's another eight new skeins of floss (Ecru, 815, 3024, 3362, 3363, 3364, 3371 and 3866).

January 19 - a stitcher has to have beads as well! I'm including one package of Mill Hill Petite Glass Beads (42027) and one package of Mill Hill Glass Seed Beads (02019).

January 20 - I can't forget that blending filament that we love so much ;o) Included are two spools of Kreinik (001 and 100).

January 21 - this poor pattern looks well used but I found it in a second hand shop and thought it might appeal to those sampler lovers out there. It's called Sampler Stocking III by Mary Beale. It's copyright 1985 so I don't know if it's OOP or not.

January 22 - buttons! Buttons are always good to have in our stash :o) This is a package of Dress It Up buttons in squares and circles. Perfect for LK, BC, HIH or snowmen patterns!

January 23 - I figure you'll need more finishing stash as well so here are two fat quarters. I love the paw prints :o)

January 24 - how can you finish something without ribbon? So here are two spools; one a brown satin and the other a blue grosgrain.

Only one more week to go! Are you getting excited? I know I am :o)

There's still time to enter so remember to comment on the first post in order to get your name thrown in the hat.

PLEASE

read all the rules beforehand!

I want to thank everyone for their kind, kind words on my last post. It made me feel a bit better knowing that there have been others in similar situations. I'm still expecting to see or hear Popcorn so she is still missed but I do hope that she finds the right home. I have faith that she will.