It has begun! Of course I procrastinated and waited until the end of the month. Nia and I are stitching this together and will be doing one block per month. The only exception is the month of January where we need to stitch the header along with the first block. I won't lie, I was worried...but last night I put the final stitches in that header and now it's DONE!



I love the colors. I splurged and went with the hand dyed fibers :o) I'm stitching mine on 32 count Light Mocha linen. This afternoon I put a good start on block one so I'm really happy and I know I can make my deadline. Phew!

It was an awesome mail day today because I got my order from 123 Stitch -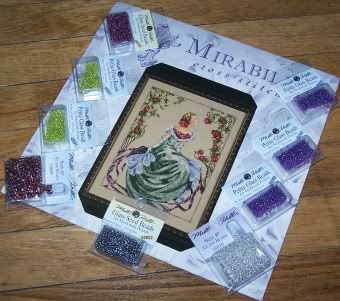 My dear friend Karen bought me a gift certificate from there for Christmas :o) I've always wanted Lady Of The Mist by Mirabilia so it was excellent timing. Of course the beads jumped in there as well. LOL! Now I'll have to decide what color fabric to stitch her on. Don't get too excited because she won't be started anytime soon! Thank you again Karen :o)

I am SO pumped! Today was my third week of aerobics and I actually feel like I have more energy. Not to mention the fact that I AM getting more coordinated ;o) No, I won't be on Dancing With The Stars in the near future but at least my body is figuring out that my arms and legs CAN do separate things at the same time. LOL! Who would have thunk?