Sigh! I have some sad news to share with you all. It's something that I had been fighting with for months and finally I had to make a decision on what to do.

Yesterday I took Popcorn back to the shelter :o( This was not an easy thing for me. I SO wanted a bunny back in my life but for some reason the special bond that I was looking for never developed between us.

As sweet as Popcorn could be sometimes, she was quite aggressive most of the time. She loved to be petted but hated to be picked up. The whole time she was here was basically a training period and I've never had to put that much work into a bunny before. Please don't take that the wrong way! Most relationships happen naturally but I would have continued to work with her if I thought things would have changed.

I was so hurt when the shelter told me that "Adopting a pet is a huge responsibility and it takes time, patience, love and commitment..." Yes there have been a few times when pets have not worked out for me but the majority of the time they have. I had my bunny Scooter for almost seven years and Pickles for eleven. They were both with me until they died. If that's not commitment, I don't know what is.

But that bond that I was hoping for with Popcorn just wasn't there, even after seven months of work, and it's not something you can force. I just didn't feel that maternal instinct. I had it with Scooter, with Pickles and most of all Brie. It was so strong that I would have killed if someone harmed them.

In the end though I am disappointed in myself because I feel like I have failed Popcorn :o( I hate seeing animals shuffled from home to home and I only hope that they will find the right home for her next time. If there is one blessing in this it's that Popcorn totally made herself at home when we got to the shelter :o) That was the very last thing I expected of her! It made it a 'bit' easier to leave her behind.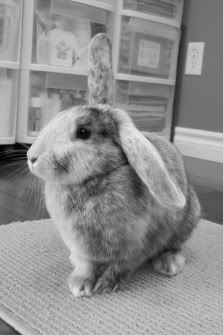 I am missing her and keep looking for her. I want to call out her name when I walk into my craft room. It will take some time to adjust. For now our house will remain bunnyless but at least the memories will still be there :o)