Are you shocked? You saw my list of goals so you know I have a bit of a road ahead of me. Might as well break away fast from the starting gate ;o)

This is the 2008 Snowman freebie from The Prairie Schooler -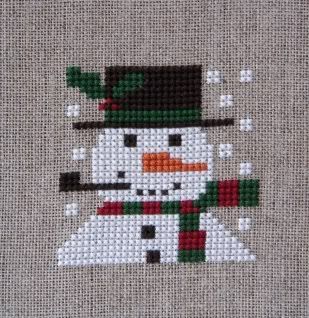 Can you see a theme going on here? LOL! I'm smitten with snowmen :o)

Okay, I'm going to shock you even further because I actually finished finished him into an ornament! What do you think -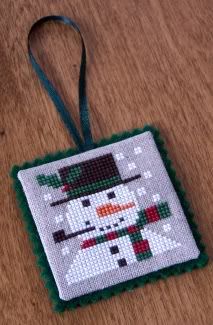 Believe it or not but I didn't have any pinking shears in my box of tools so I had to venture out and find some. Luckily Wal-Mart had them at a decent price.

This is my first time using the felt as a backing so I'm pleased. I'm not sure if I should have had more felt showing or not. DH said no, that it was fine. The next time I attempt this finish, I'm going to use more batting though because he looks kind of flat to me.

So I have another piece completed and it counts as one ornament off my list. At this rate, I might have all twelve stitched up AND finished for our tree next year ;o)

As you can see, Sabrina has won the poll! I've pulled all the DMC threads and I'm just waiting for the beads, specialty threads and fabric. I do have one more question though...I do like her on the Natural Light linen that is suggested but I pictured her on a light grey. I have a piece of Pearl Grey linen but I'm not too sure about it. Does anyone have any suggestions as far as fabric colour goes? I tried a gif of Sabrina (someone sent it to me) on the Pattern Viewer but she won't show up :o( Any help would be greatly appreciated.