Ta-da!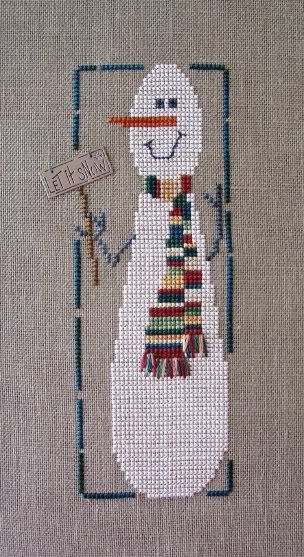 This is Let It Snow by Heart In Hand. I just love this guy :o) I had issues with the fringe on his scarf and I know I made mistakes there but I don't think you can tell. It was hard getting all the colors in order, counting and watching a movie at the same time. Shame on me ;o)



The little sign he's holding is sweet and all but if I can find another one, I think I'll change it because we have way too much snow, with more coming towards the end of the week. Ack!



I had planned on squeezing him in for the end of 2009 but it was a no go :o( But, on the bright side, he counts towards one of my small pieces for 2010! He's too big for an ornament so I'm thinking I'd like to make a flat fold. I've never done one before so if anyone knows of a great tutorial, it would be greatly appreciated if you could leave or email me the link.

I have lots more to show you but I'll keep this post short since it's close to bedtime for me :o) That just means you'll have to come back and see what goodies arrived here today and what I found at the grocery store...