My goodness, where has this week gone???? I meant to post sooner than this but time just keeps getting away from me. It's not that I'm super busy either. I've just been SO tired lately! It's seriously started to annoy me.

You didn't think that I would let January go without another finish did you? ;o) Oh, what do we have here? Could it be 'another' snowman? I think they have invaded my house! This is the 2006 Snowman Ornament by Mount Forest FrameWorks -



Isn't he adorable? I didn't want to order the fabric suggested, 28 count Evening Song Linen by R&R, since I required so little. I ended up substituting with 28 count Wedgewood Lugana and I have to say that it's a pretty close match color wise.

These patterns include a hanger so it was fairly quick to complete -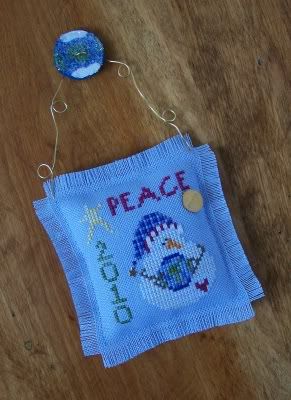 I used the same finishing method as the last MFFW Snowman, seen here, and now I have another ornament ready for my Christmas tree next year :o) Speaking of ornaments and trees, I have a question for you all. We always get a live tree each year but I'm so afraid to put my cross stitch ornaments on it for fear they will get pitch on them :o( Are there any of you who worry about that?

Before I go, I also wanted to spread the word that I would like to get my hot little hands on some of more these MFFW Snowmen Ornaments! If you know where I can find them, please let me know. I'm not sure how many years they did them for but I have 2004 and 2006 so I 'assume' there's at least a 2005 floating around there somewhere :o) Thanks!

And don't forget...there's only one day left to vote for your favourite fabric!