s-s-s-s-SNOW!



Pictures are worth a thousand words -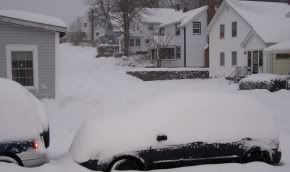 Yup, my car is underneath there somewhere...

For some reason, Nova Scotia loves to have things done differently. Three of our four doors going to the outside swing outwards. Not a problem right? Maybe in a warmer climate but not up here in the north where you get lots of snow (at times) -



LOL! Luckily we have a new door on order and it's going to swing 'inwards' ;o)

This is our largest storm this winter. We had a small one right before the holidays, enough to say that we had a white Christmas but then we were back to green lawns. I now have to bite back my words. I bragged to my parents that we lived in God's country because we've had nothing but mild weather and they've been snowmobiling over there for about a month. It seems I'm paying for that now :o)

Enough of the "S" word. It's that time where I set my stitching goals for the upcoming year. Two years ago, I came up with the perfect formula. I found that it gave me the freedom I wanted but also something to work towards. If you check out the Pumpkin Patch & Co. Graveyard, you'll see that I achieved my 2009 goals by 100% and over! This year I'll use the same method but I've changed the numbers around a bit.

I'm still up in the air about my large project so I've narrowed down some of my choices and I'm going to list them in my sidebar. What I'd love you to do is tell me which one you'd like to see me stitch this year :o) I'll leave the survey up for a week to give everyone a chance to vote for their favourite.

My 2009 list of completed projects has been moved to the Pumpkin Patch & Co. Graveyard so if you'd like to see them at any time, just wander over there. When will my first 2010 project be revealed? Ha! Now that's a secret so you'll just have to keep coming by and checking ;o)

I hope everyone had fun welcoming in the New Year. I can honestly say that DH and I did! We ended up with our friends, T and K, as planned but the Wii wasn't brought out. Why? Because we ended up playing a FOUR HOUR game of the 90's version of Trivia Pursuit :o) I have never laughed so much in such a long time. And I've never stayed up until 3:30 am in a VERY long time! Oye. Needless to say, I'm still recuperating...