Sabrina had a lot of attention during the month of March and now she's ready for more beads -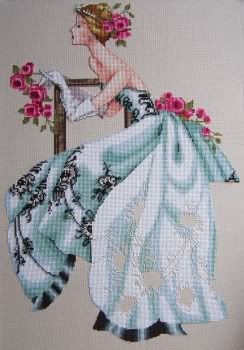 This was the biggest section that I've taken on so far so I'm not sure how long it will take me to bead it. I may actually be blind by the end of it. I do know one thing though...once this area is complete, I will be on the homestretch! Sabrina WILL be done this year :o)

Since it's a new month, I'm back to stitching on my Christmas Rules SAL with Nia :o) It seems like forever since I last laid eyes on this project! LOL!

This morning DH came in with the mail and I got my fabric order. I have a few great spring pieces planned for this month :o) Remember, it's bunny month after all so stay tuned...