We had another shop close down :o( This one carried a few cross stitch supplies but not enough to consider it a LNS. During the last week it was open; I went in and inquired about a few things. One thing was the Mill Hill bead racks :o) You guessed it, I came home with two! I was so excited and just look at these pretties -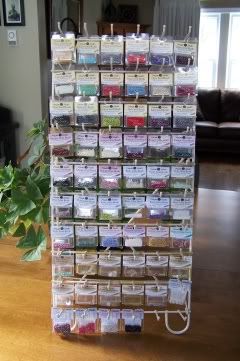 Yes, those are all my Mill Hill beads and treasures. LOL!

So far I only have one rack in use. I'm not sure if I'll use the other one or not. I just wish we had the money to fix up my craft room with all the cabinets that I've been dreaming of ;o)

Spring is finally popping up -


It's still quite cool though and now we're having a week of rain :o( Come on warmer weather!