This was 'supposed' to be 'Tis Green but I think it's ended up being 'Tis Blue/or/Grey ;o) The design is by La-D-Da and is featured in the current JCS Christmas Ornament Preview Issue -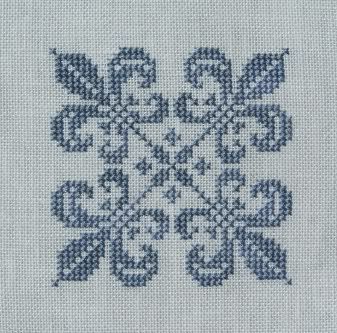 I left you hanging because I knew it wouldn't take long to finish this one. LOL!

And...TA-DA! Fini as well!



As I indicated earlier in my Blog, it was the fabric that inspired this ornament. The ornament is resting on the backing fabric that I used. Unusual colour isn't it? But oh so pretty :o) It took awhile but I finally settled on Liberty by GAST. I wish it had been a more variegated colour though but I'm still happy with the final result.

This means I have stitched eleven out of the twelve ornament sized pieces for 2010! Only one more to go :o) I figured that since I'm SO close, I might as well stitch the last one. It wasn't hard to choose the one I wanted to stitch either (it's got bunnies in it!). The design is by the talented Danybrod so keep your eyes peeled for another finish soon :o)