That's right! Beach Cottage by Country Cottage Needleworks is complete -



So pack your bags girls because the sand and ocean await you :o)

This was such a fun design to stitch. I'm going to have to dig in my stash to see if I have a frame to fit. That would be the most economical way. I know I have a few frames but what are the chances? LOL!

Since DH and I have moved here, the beach and the ocean have become a big part of our lives. The dogs love going to the beach and acting like complete idiots ;o) Duncan will venture out into the water only so far but little Brie still has her great swimming skills although she doesn't use her back legs while doing so. After she gets out of the water, she runs up and down the beach like a lunatic. LOL! I'm not sure if she's trying to warm up or if the water was that invigorating. You should see her belly though! It went from pink to almost black. Yup, our little girl LOVES to lie in the sun.

The other night I noticed that we are consuming a lot more seafood in our diet. And how could we not when we can eat this whenever we want -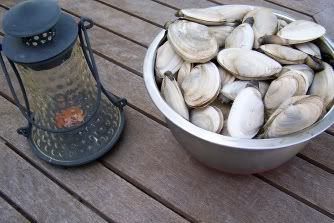 That is one huge bowl of soft shell clams :o) Yum! Shelling and cleaning them is not so fun but boy they taste good. DH has also brought home fresh scallops and fish. We still eat red meat from time to time but not as often as we used to. Chicken still remains high on the list but I'd say it's second to seafood now. I guess that's a good thing.

Well...SHE DID IT! SHE DID IT! Stargazer brought home a first from the Exhibition!!!! On the back of my entry tag the judge wrote "Excellent work". I feel like a proud momma :o) I'm not sure if they have a Grand Champion for cross stitch here and since we didn't go to the Exhibition during the week, I wasn't able to see. That's okay though because I'm happy with the results :o) Unfortunately my photography didn't do well but like DH said, you don't know what the judges were looking for and I went out on a limb with my entries.

It's going to be another scorcher of a day :oP Yuck! The dogs and I just might be hitting the beach again. What a hard life. LOL!