Not only has it been hot weather wise but I managed to find a hot little find the other day :o) My in-laws had been here visiting from New Brunswick and since it was their first time here, DH and I took them to Mahone Bay on Wednesday to show them the area. Somehow I managed to miss this little store each time we've been there but on that day, something told me to go in and I'm glad I did.

What did my wondering eyes see? Needle felting kits!!!! I can't tell you how excited I was :o) They had all kinds by Woolpets and I had a hard time deciding between the pony and the bunny but in the end this is who won -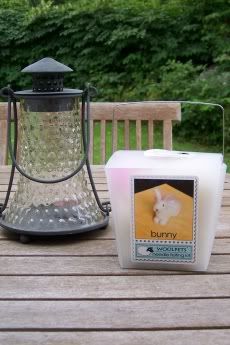 It does say easy so I hope I have enough experience to pull this little guy off. So now I'm torn between stitching and needle felting. LOL! DH says that I have too many hobbies. Is that even possible????

I love fun things :o) Who doesn't? Check out these t-shirts. I guess you might have to have a fishy sense of humour to appreciate it though. LOL!