I apologize for not being around this week. I have no idea where it went! Luckily I can say that I have been busy, although it hasn't been all 'good' busy :o( More on that in a bit.

I was able to put the final touches on one stitching project :o) Here is Dewdrop by Just Nan -



Again, I think he's super adorable. The flower button is a little overwhelming but I'll leave it as is for now.



To be honest, I've never been a huge fan of Just Nan patterns but I really did enjoy stitching this one and I do look forward to stitching Peter Cottontail. Come to think of it, I only have three of her designs and they all have rabbits in them :o) LOL!

Speaking of bunnies, my little pal Pickles has not been doing well this week and I've been beside myself worrying about him :o(

Luckily I've had years of experience with rabbits and after observing his symptoms, I was able to narrow things down by doing some research on the internet. On Saturday morning, I called a local vet and was able to get him in for an appointment. Luck must have been on my side again because the vet that was working was their 'bunny specialist' :o) Dr. C was so good with him and Pickles didn't even growl at her!

First she checked his GI track and that seemed good. That was a huge relief. She left his teeth until the end and that's where my other suspicion lay. She came across one sharp molar on his right side and even showed me on the monitor through her camera scope. Too cool! So it looks like that may be the culprit to Pickles' problem. He's scheduled for a 'procedure' on Tuesday to remove it and then hopefully he'll be back to normal. My boy is 11 years old so I'm a little worried about them putting him under but I must keep positive!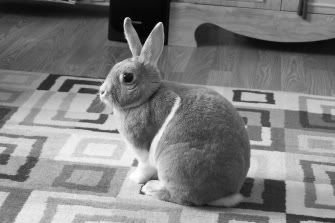 Pickles is being such a super sook that it's almost hilarious. This is my grumpy man who just wants to be petted and doted on. The macho man has disappeared. I might as well enjoy it while it lasts because he'll no doubt revert back to his ways once he's fixed up ;o)