Would you like to be my neighbour?



Is that a tease or what! I wonder how many neighbours I would have if you 'could' come over. LOL! I see that I haven't scared anyone away with my twisted sense of humour so either you guys are brave or you're just as crazy as I am ;o)

Yesterday I had to travel to the next town over to change our insurances, vehicle registration and my driver's licence. The insurances were done without a hitch but I sat at the DMV for an hour just so that she could tell me that I had to have DH there with me to change things over >:o(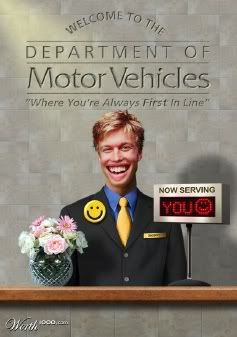 What is it with the DMV anyway???? Why do they get such a bad rap? Aren't all their agents this friendly? ;o)

Not was all lost though because I found a cute little bookstore and a framing shop that carries 'some' stitching supplies :o) I also did some furniture shopping but that news will all be revealed in another post...