Sorry, but it's not Stargazer! Were you holding your breath for a minute? LOL! Last week when I had my dental surgery, I took out a freebie chart I had that only required one color. I figured at this point in time, I needed something simple to work on so Mr. Frog didn't come a knockin' ;o) This is Heart Stitcher by A Mon Ami Pierre -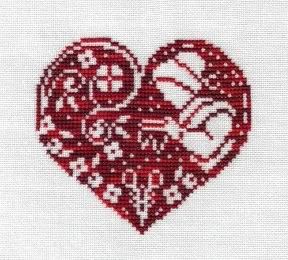 I just love this little pattern. I stitched mine on 28 count Antique White Lugana with Razzle Dazzle by Needle Necessities. And even with only one color to work with, I did have to frog a couple of times :oS I wanted this one to be a little bigger because I'm debating on how I want to finish it. First off I need to figure out how to get a heart template cut. Has anyone done a heart before? If so, can you provide any tips or tricks? :o)

So now I have two out of my five ornament pieces done for 2008. I'm slowly working my way to my goal ;o) Stargazer will be back on the scene now. Surprisingly the white beads are going rather fast. Hey Katie, with all this beading, I might actually get Giggles completed! LOL!