Don't say it! I know, I've been M.I.A. Have you ever had one of those days (weeks, months, years) that were just too much and all you wanted to do was crawl back into your warm, secure bed and shut out the world? N'uff said.

How was my Easter? No egg hunt, no Easter dinner, no bunny :o(

This month marks one year that Pickles has been gone and it was the first Easter in over eleven years that there wasn't a real live bunny in the house. I know Pickles had a good life but I do miss seeing him get all excited when I'd open the fridge door. He knew that was carrot time! I miss his ability to fling one rabbit turd across the floor with one swift movement. This meant that it was time to clean his cage. I even miss his little grunts. That meant "Leave me alone lady!"

What a surprise I had on Tuesday though when I picked up the mail! No, no one sent me a real bunny by mail but it was the next best thing :o) Danielle, the sweet generous girl, sent me the pattern Bunnies Galore by Brittercup Designs!!!! I was so touched by her thoughtfulness and don't think I have forgotten you. In case you are wondering, of course I started one of the patterns. LOL! I am stitching on Queen Anne's Lace Jobelan although it's hard to see in the picture -



For as long as I can remember, I've had an egg hunt on Easter morning. My parents did it for me and DH continued the tradition :o) Am I spoiled or what! There was no hunt this year though. DH felt really bad but it's probably for the best since I have a little stash of ECEs hidden away... If you look down the right side of my Blog, you'll notice that I have passed last years' number ;o) Shhhhh.....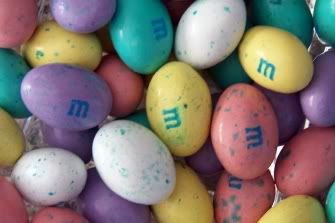 Our dear friends T & K invited us to their place for Easter dinner on Sunday. I was looking forward to it all week and K was excited that we'd get to spend some time together. So Sunday morning I'm eating my breakfast and all I can think is that I must have turned the wrong (right) way because I heard a pop in my back :o( I had pulled a muscle under my left shoulder blade. I couldn't even take deep breaths because there would be shooting pain.

Seeing that I was doped up on muscle relaxants and in bed unconscious, DH made the appearance for both of us. When he got home, he carried in three containers full of food! K had sent enough Easter dinner to last us three nights and it was topped off with cheesecake :o) It was all sooooo good and I couldn't thank them enough.

I guess what I'm trying to say in this post is that, even though life may give you lemons, it's still possible to make lemonade when you have wonderful people around you. I was truly touched by both acts of kindness and one day, I hope that I can reciprocate :o)



As a side note, I am WAY behind on emails and Blog reading so don't give up on me yet! It may take me awhile to catch up but I'll be around to every one of you :o)