Oh where oh where can she be? Don't worry, she's still here! Looking beautiful as always -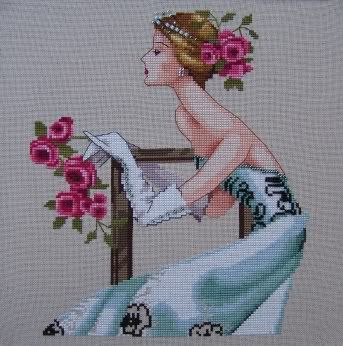 I'm not tooting my own horn here. I just think she looks amazing with all her bling :o) I haven't done a lot since the last update, I don't think, but I've started filling in the black beads. Knowing how many black beads I have ahead of me does not thrill me in the least. I think I might eventually go blind :oP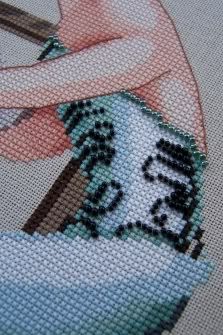 Because of the pulled muscle, my stitching took a back seat for a bit but when I felt up to it again, I brought out a smaller project...therefore Bunnies In A Basket! Here is another progress picture of them -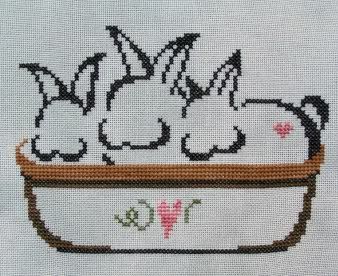 They look quite odd without faces don't they? Actually, the more I look at them, the more they are creeping me out! I think I had better add some features soon. LOL!

I want to thank everyone for the concern about my back. It's 'back' to normal now ;o) When I do something, I do it right (wrong) and I definitely did a good job on this one. Oye!

To add insult to injury, last week I managed to break one of my teeth in two. Do you want to hazard a guess as to which one it was? Bingo...the million dollar tooth! The one that had a filling, then was replaced with another filling, then there was the root canal (or was there two?) and finally the surgery. Yup! And tomorrow I have to go to the dentist and have it pulled out. Oh joy ;o) I just hope those Happy Pills really work their magic. LOL!

I've had a few people ask about the results of my job interview. Well...I was supposed to go in today for a second interview but the owner had come down with the flu. It's now been moved to Thursday :o) Things sound really positive and that's what worries me. You'd think it would be the other way around but I never said I was normal...