I see that I have left you hanging this week ;o) I do apologize for not posting a progress picture of Sabrina sooner but between being busy, tired and lack of energy for stitching, I didn't think I had much to show. Now that I look at the pictures though, there has been some advancement -



What do you think? The blocks of solid colors are wearing thin but in a way it's good because with my mind being in space, there's a slight lack of concentration going on upstairs and we all know that I don't want the dreaded Frog to visit.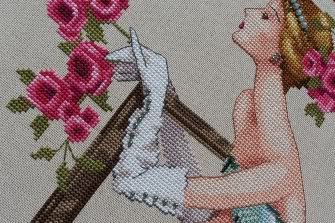 I have kitted up a small project that I'm going to start soon. That will give me a little break from Sabrina but don't worry, she's not going far! This girl is going to have her dress done this year for Christmas ;o)

There is still one more day left of the workshop and I have to say, I am learning some things. For those of you who asked, they are teaching us how to be assertive, anger management, how to prepare a cover letter, what employers are looking for during an interview, etc. I am 'hoping' that there is a little secret in there somewhere that I can use to get prospective employers to actually call me! A sixth resume went out this past week and one will be delivered on Monday.

I am SO happy to report that we have gotten rid of our piece of $hit Tracker :o) WOOHOO!!!! I don't think I related this story on my Blog. DH and I were given a 2002 GM Tracker from my parents last year figuring it was the safest route to buy a used vehicle. A few months ago, DH noticed it was running weird and the engine light had come on. He took it in and found the chip for the throttle sensor had to be replaced. Okay, done.

Not a day went by and the engine light came on again. He took it back to the mechanic (they are awesome btw) and found out the chip for the oxygen sensor had to be replaced. Apparently the throttle sensor and the oxygen sensor affect one another so when one goes, the other one usually does too. Expensive little part but what else were we going to do?

On the way home, DH noticed this awful noise in the dash every time the Tracker vibrated. Annoying as heck (because I drove in it) and after five minutes I wanted to jump out, even if the vehicle was still moving! Soon afterwards the engine light came back on. You can just imagine how blue the air was in our house.

Soooooo....back to the mechanic and this time he had a guy from GM. He told them to replace the air filter and the thermostat. Okay, but the thermostat had already been replaced (forgot about that). They did it again and fixed the nails-scratching-on-chalkboard noise in the dash and away DH went. He was really happy because the Tracker really was working better and this went on for a whole week!

Hope didn't last long because that dreaded light appeared again >:o( That was the last straw. I told DH to trade it in and get what he could for it. It was that or burn it to the ground...but you didn't hear that from me ;o) The people who own the garage sell used cars as well and DH noticed they had gotten in a 2008 Ford Ranger two-wheel drive with extended cab. It only has 19,000 kms on it and still under warrantee! They negotiated a deal and the Tracker is their problem now. At least they know what they're getting into.

DH is much happier :o) The Ranger isn't 100% what he wants but it's what we can afford right now and we'd rather sink our money into a vehicle we can use than one that's headed for the grave.