Yesterday and today I have been taking part in a workshop called 'Life Skills'. Its part of a government program to help those who are unemployed find employment. Not what I really want to do but since I don't have much of an option, I figure I'd just suck it up and be done with it.

The workshop is from 9-4 pm and is four days in total. Waking up for 7 am each morning has been a complete shock to my poor system! I guess it goes to show just how much I've taken for granted sleeping in until 9 am ;o)

On Monday morning I decided to try and cut some corners because I'm running on a tight timeline. This has got to be genetic because no given amount of time is enough for my side of the family. We always seem to be late. So, instead of shampoo and conditioner, I opted for the two in one (which I NEVER do anymore). Big mistake. HUGE! After blow drying my hair, I looked like I had visited the science centre and touched one of those static electricity balls! Even the flat iron wouldn't help.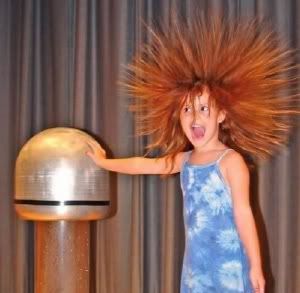 Out of desperation, I ran downstairs and got on the computer. I Goggled 'static electricity in hair' and do you know what one of the solutions I found was? Take an unscented dryer sheet and rub it on your hair. Huh? I can certainly testify that this DOES work! Whoda thunk? Crisis averted...

In order to attend the workshop, it's required that I dress in business attire (ugh!). So yesterday, I dusted off (literally) my dress pants and picked out a cute blouse with a camie underneath. Therefore...no bra = a more comfortable me :o)

I pulled on my pants praying that they fit because it seems that a few extra ECEs have added a few 'extra' pounds. I let out a huge sigh of relief when I was able to button them up without incident. Phew! Just as I was about to set out, I took one last look in the mirror to assess myself and I was horrified! There before me, the 'Hooter Girls' looked like they were one on top of the other :oS Ack! They weren't even on the same level for Pete's Sake! I was looking at Perky and Droopy.

Luckily I remembered a strapless bra that I had bought a few years ago and it came with clear plastic (removable) straps. Another five minutes wasted trying to put this thing together! I quickly stuffed the girls in and we were ready to go :o) Mission accomplished and disaster avoided...

What I love about this workshop is that we get fed, very well :o) They provide coffee, tea, water, morning and afternoon snack plus lunch. All yummy! The only downfall...what happens when you drink glasses of water and cups of tea??? That's right, you eventually have to pee!

I'm not sure if it's the fact that I'm getting older or what but I used to be a camel when it came to holding my bladder. This came in quite handy since I have a true fear of public restrooms and will usually do 'anything' to avoid using one. But yesterday there was no way I was going to make it and I knew I'd have to give in.

Imagine my delight when I walked into the stall and there attached to the side was a box full of toilet seat covers! I could almost see a glow and hear the angels singing. Heaven couldn't be sweeter! I LOVE Best Western :o)