I've been holding out on you ;o) I was bad and started 'another' new project. Here's My Lady's Quaker by Jardin Prive -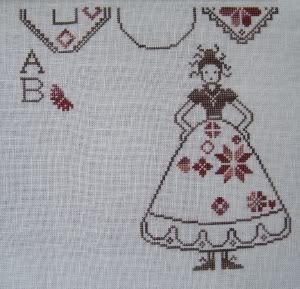 Isn't she just lovely? I'm having so much fun stitching her! Since the majority of you preferred to see her stitched on 32 count Antique White linen, I went with that and to be honest, I'm glad that I did :o)

Although I just LOVE the colors that I picked out, I can't say that I'm as enamoured with the quality of the threads :o( The Atalie threads that I wanted were going to cost a small fortune so I went with Valdani. Yes, their colors are just gorgeous but working with their threads is a nightmare! They knot so easily and they fray. Boy, do they fray :o( I hope that I have enough grey to get me through to the end of this project. I was hoping that I would have enough to do the Quaker Gentleman too but that's not going to be the case. Grrrrr!



As of right now, I've used Old Rose and Chimney Dust. Here are my thoughts...I can continue to use just these two colors OR I can introduce a third color called Green Olives. My idea was to use Green Olives for the greenery in this piece. What do you think?

Did everyone download the new issue of The Gift of Stitching? I was really looking forward to it because it's their annual Christmas ornament issue but boy was I di-sa-ppoin-ted :o( How many snowflake ornaments can one stitch???? Is that as creative as some of those designers can get? There are a few that I just loved and I was thrilled to see Stitchy Kitty in there. Michelle and I have been exchanging emails over the past year and I told her to contact TGOS about getting an ornament put in there. She really wants to get into the JCS ornament issue and there is no reason why she should not be invited. I love Michelle's designs. They are fun, colourful and have bones to them!

I want to thank everyone for their kind words regarding my ten year anniversary :o) It really warms my heart when I read those comments. I have a few ideas in mind, for myself and for others so I'll keep you posted.