Autumn has definitely arrived and I'm loving it :o) The air is crisp, the leaves are full of color and there are pumpkins everywhere! This is my favourite time of year. I love driving by houses and seeing them all decorated with bales of hay, pumpkins and corn stalks. Most of the tourists are gone and the beaches are mine once again. LOL!

The only beach that we have that is of walking distance from the house is a rock beach. That's okay though because where there are rocks, there is usually sea glass :o) Lately, DH and I have been walking Duncan down there so we can paw through the rocks. Today I walked Duncan down there and while he wadded in the water, I started searching. When we come home, we've been adding our bounty to a glass container -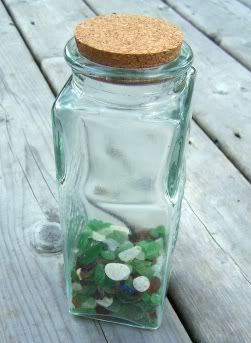 There are very few large pieces on this beach but that's okay. We've been finding lots of little blue pieces but red is the Holy Grail. One day I found a teeny, tiny flake of red. Nothing since though. Rats! That's okay because it just means the search will continue.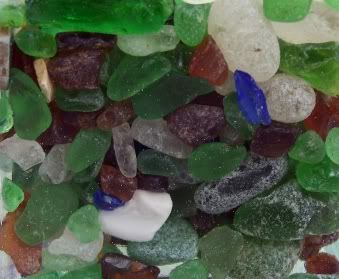 My stitching mojo has been pretty crappy lately. Since I accomplished my goals for 2009, I have no direction. I'm having such a hard time deciding what to stitch so I've been sticking to smaller projects. I thought it might be appropriate to stitch a Christmas ornament for the first year in our new house. I'm not sure if this will be the one but this is what I have got done so far -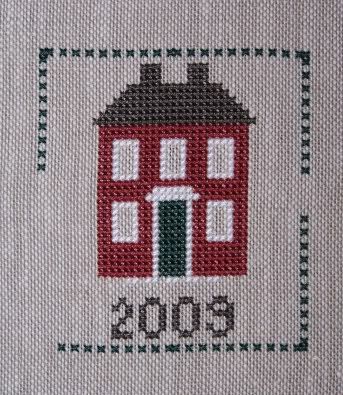 I bet you can't guess who the designer is, and no, it's not me ;o)

I think I would like to start the Quaker Lady & Gentleman but I'm not sure what count I want to stitch them on. I have 28 count Antique White Lugana or 32 count Antique White Linen. Which would you pick?

Don't forget to check out my previous post to get your breast cancer freebie :o)