As promised, here's an update on our life here in Nova Scotia :o)

On March 10, DH and I packed up my car and a rental minivan (and yes, they were PACKED), said good-bye to my bachelorette pad and headed out on a seven hour drive to our new home. As we crossed the border, I stuck my hand out the window and waved adios to New Brunswick :o)

By the time we found our rental place it was dark but let me tell you, that did not diminish the 'WOW' factor! As DH and I unloaded the cars, we listened to the waves crashing just a few yards away and we watched as a brilliant full moon washed light over the water. Home.

DH took a week off before he started work so it was wonderful to spend the time with him as we explored our new surroundings :o) We are literally right 'on' the beach. I'm amazed that the province lets people build so close to the water. Our rental is located in a much sought out area because of the beautiful sandy beaches. When the tide goes out, you have lots of space to walk and explore -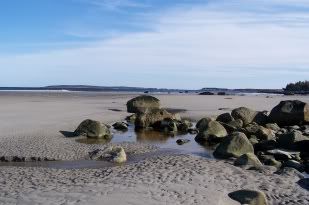 Brie is absolutely in love with the beach and she just goes crazy when she can get down there and run around like a crazy dog :o) Because we are right on the Atlantic Ocean, the water is cold but I'll be curious to see what she does come summer. She loves digging up shells and even found a small crab one day. I don't think Mr. Crab was too impressed so we let him be. LOL! Thankfully she will never (hopefully) meet our resident seal, Summerville. From time to time you'll see him basking on his rock quite a ways out.

I can definitely tell you that my creative mojo has returned! How could it not in such an inspirational spot as this? I've already taken a few dozen photographs but I'm learning to watermark before I post them. Eventually I hope to start selling my pieces, perhaps locally and on the internet. In the meantime, here's a picture of the Princess posing for the camera -



It seems that we are within the best surfing areas of Nova Scotia. Who would have thought! When I think of surfing, I think Hawaii or Australia. Apparently it's quite popular here. DH is talking about taking up the sport but I'll be happy just to sit on the beach and 'observe'. Cold + water do not mix well for me ;o)

DH started work on March 16 and it's so nice to see him come home at night with a smile on his face :o) He's got a lot of training left to do but he seems happy and in his element. Of course all the toys that he's been given add to the fun. He's just like a kid on Christmas morning! LOL! I'm so jealous that I've even considered going into training myself. I said "considered"! ;o)

I've met a lot of the people that DH is working with/for and they are all super people. It's like one huge family and his office is very family oriented which is nice. Through his training period, DH made a few friends that live close by so in some ways it doesn't feel like we are new here at all. Of course it does help to know a few things in advance -
The town of Port Mouton is pronounced Port Ma-toon. If you pronounce it the other way, you're automatically targeted as a newbie.
It's very wise to always make sure you have $4 on you whenever you go through the toll at Cobequid Pass. I doubt very much you'll find $4 worth of change if you dig through your car seats.
Always use your signal light when changing lanes. The fine here is $150!
And FINALLY, it is illegal to talk on a cell phone while driving in this province. YES! 'Bout time.