NOT!

There is very little good that I can say about this weekend :o( The weather has been awful. It has rained err, I mean 'poured', for the majority of the last three days but now it has turned into a very hot and humid atmosphere. This definitely limits any outdoor activity but it has also wreaking havoc on my joints. But the real upset began yesterday....

I had woken up around 5 am and went to sleep on the couch with Brie because there was a thunder and lightning storm. It really doesn't bother her too much but she was awake and it was nice to spend some mother/daughter time :o) Shortly after breakfast, DH and I had gotten ourselves ready to take a trip into town. We desperately needed groceries and there were a few other stops on our list. Brie seemed quite normal and kept circling her Kong, hoping someone would stop long enough to play with her.

I finally convinced DH to throw the K-o-n-g a few times to please Little One. He threw it once and Brie ran to retrieve it but stopped short and had no desire to bring it back. DH went to sit in his chair and Brie wasn't far behind to stretch out on his legs. I came out to see if I could entice her to play and she jumped down and ran right over. She ran and retrieved the Kong a handful of times but then stopped. We thought this was quite odd but thought that maybe she was just tired. I tried some hands on play but she yelped a few times. We examined her for injuries and couldn't find 'anything'. When we left, we put her in her kennel.

We arrived home about five hours later and as soon as I opened the door, she started whining. I got her supper but she still whined. I let her out to use the bathroom but when she came back in, she whined some more. I was at wits end and sent her out with DH and Duncan. When DH was done mowing the lawn, I called for Brie to come inside. I watched her run to the door and noticed she was running at an odd angle. I checked her over again but still couldn't find anything. But then I asked her to sit and saw that she was having a bit of trouble. When I asked her to sit up, she couldn't do it at all. I was beside myself :o(

I called the vet and she said it was probably her back and to give her half a baby Aspirin to bring down the swelling and then check her again in the morning. But as the night went on, we noticed Brie was getting worse and worse, to the point where she could hardly support her back end. I was hysterical by this point and called the vet again. At 11:30 pm, we were at their office. Thankfully, it was a vet I knew so I knew he was good. After a thorough check, he found that one of the disks in her back had prolapsed. He gave her a shot of Cortisone to reduce the swelling and a shot of Morphine for the pain and took her home with him.

It was SO hard not coming home with her but I knew it was for the best. We talked to the vet this morning but there was still no change BUT things were not any worse, which was really good. A few hours ago, we talked to the vet again and the x-rays showed there are two disks that are involved :o( She is still receiving the Cortisone shots but he's easing up on the Morphine and she's settled. I want to see her SO badly but I know that if we go there it will just excite her and make things worse so I've accepted the fact that I will have to wait until at least tomorrow. The vet was hopeful that things would be better by then.

I'm not one to ask for help, sympathy or good thoughts but now I am pleading. My little girl, Brie, means everything to me and I just want her home and on the mend. She's such a little trooper and is the bright light to anyone's day. This whole thing is going to dramatically change her lifestyle and it's going to be hard not letting her play with her cousins or let her jump on our laps whenever she wants to.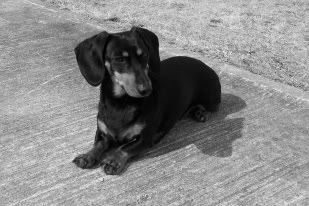 Please forgive me if I'm a bit off. Usually, I try to find humour in most situations but this time I cannot :o(