Stitching? What's that? LOL! Somehow, I've managed to fit a bit of it in this month. Stargazer has been put on the shelf but I dug out a small project, something that I didn't really have to concentrate on and that was easily transported. This is The Crab Is In by Waxing Moon Designs -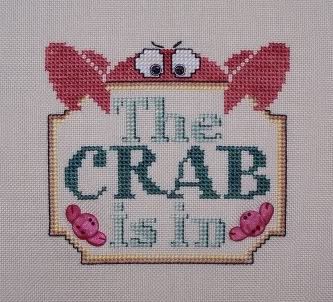 I've always LOVED this pattern and it's SO appropriate for me :o) I think it should be hung up on the door to my computer/craft room. Okay, okay, it should just be hung around my neck. LOL! This will be the second completed small project that will go towards my goal for the year.

I thought it was about time that I got back to stitchy talk before I lost all my readers. I see most of us are (im)patiently waiting for the September issue of Cross Stitch & Needlework to come out ;o) When I first saw Nora's Halloween fairy, I wasn't that impressed but then I saw a better picture of it and I think she's adorable. I'm not sure what to do because I will want to stitch her but I haven't even started the Vicki SAL yet and so far only two out of the four of us have finished her :oS

Speaking of the four of us, Katie, Faith Ann, Shannon and I have decided to do a Christmas ornament exchange. We each have the name of our secret person and now the challenge is to decide what to stitch! At first I thought it would be a breeze but the more I looked through my stash, the more ideas started to swirl around in my head. It is NOT a good idea to go stash diving when you're in a vulnerable state. LOL!

Brie is still doing well. She's one happy puppy to be home. On Tuesday I take her in to have her stitches taken out. Her bandage is still on so I haven't even seen what it looks like underneath. Surprisingly, it doesn't seem to hurt her because we've seen her sleeping on her back and she still enjoys rolling around on the carpet :o)

I really don't know how I can thank everyone for their wonderful emails and comments that have been full of support and kind words. I do know that by reading them, they have given me that extra strength that I needed. So...I'm going to do the next best thing that I can think about...I'm going to hold a giveaway! What's the prize you ask? It's a surprise but I know it's something any of you will enjoy :o)

There are a few rules though. This drawing is a way of thanking all my friends that have been there to support me during this time so rule number one...you must have left at least TWO comments from July 1 to 17, 2008. Your name will not be accepted if this step has not been done. I will ship anywhere. You have up until July 23, 2008 to leave a comment on this post and enter your name. Please leave a way to contact you should you be the lucky name drawn. The winner will be announced the next day :o) Good luck!