Easter is right around the corner and there are bunnies in abundance. As you know, I'm a HUGE pumpkin fan but what you may not know is that I'm a HUMUNGOUS bunny fanatic! I-love-bunnies. It's a well known fact :o)

It developed at an early age. In kindergarten, I won an Easter coloring contest at Shopper's Drug Mart and the prize was a blue and white stuffed rabbit. He was so big that when his ears were erect, he was just as tall as I was :o) I had him for a long time. I was quite proud of that prize.

In 1991, I got another rabbit but this time he was of the living and breathing kind. My parents were away for the weekend when I adopted Scooter from the local pet shop. When they arrived home, I introduced them to my 'surprise'. Dad's first reaction was "It doesn't jump on the furniture I hope." No sooner had this sentence left his mouth and Scooter bounced up onto the chair beside me :oS

That was Scooter though. He was a Dwarf rabbit and with that comes attitude. Big attitude! He was house trained so he had the run of a room whenever we were around. Scooter was my baby and as such, he was spoiled. For some reason, he was addicted to Pringles and would always come running whenever you shook a can. I have a picture of him trying to pry off the top of one :o)

Scooter was a high maintenance bunny and I'm glad he found a home with me and not someone else. He had coccidia, something that is quite common in rabbits but it can be deadly. Instead of nice round pellets for poops, he usually suffered from squishy, smelly clumps. This made for one dirty bum so he was used to having a bath on a regular basis :o) Unfortunately, this condition contributed to his death just short of his seventh birthday. That was one of the worst days of my life :o(

A few months later, I was prepared to bring another bunny into my life but there were none to be found. DH suggested checking the SPCA and lo and behold, they had two. Someone had found both of them in a dumpster :o( One was already adopted but I fell in love with the other. I decided that his name had to be special, something that would make me smile every time I said it. Then it hit...Dill Pickles ;o)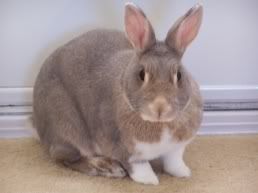 Pickles is only half Dwarf but he's still got some of that attitude. He's a very demanding rabbit. When it's time to clean his cage, he will fling a single poop out onto the floor. Yes, just one. I have no idea how he does it. As soon as he sees me in the morning, he runs around his cage until I open the fridge to get his carrot :o) If he's out of food, he'll chew on the bars of his cage until I fill it back up again. You can definitely see who runs the show...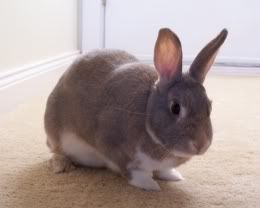 Towards the end of this year, Pickles will turn ten years old. That's getting up there in bunny years. I know he's not going to be around forever and as much as I prepare for that day, I know I won't be when the time comes. But my love for bunnies will live on :o) And every time Easter rolls around, I'll get to revel in bunnies everywhere until they're coming out of my ears. LOL!