Alright, nobody told me that Stargazer had tentacles! Right now she looks like an octopus -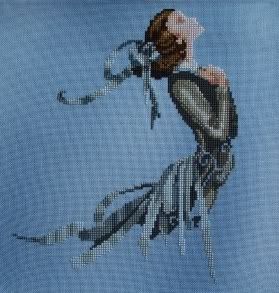 LOL! Yes, I finally got in some more stitching time :o) This is my progress as of last night. I'm quite pleased with the amount that I did get done. As much as I would like to have a finish already, I have been very faithful to her. Nothing has strayed me so far. Nothing from Nashville, that's for sure. Whew! No wait! Okay, I just lied :oS DH is buying me The Garden Chair by The Cat's Whiskers -



But I won't be starting it right away. As you can see, that 'is' in writing ;o)

I've been working hard on the

Pink

Party and things are coming together quite nicely :o) Of course it looks like someone barfed up pink all over my craft room. LOL! The goodie bags are filling up, the menu has been decided upon and I've gotten some decorations. Now to find someone with some hot air to blow up the balloons...I wonder if DH will be around ;o) I will post lots of pictures for you to see but it will have to wait until after the party. There are a few that read my Blog that are coming and I don't want to unveil any surprises... Drat! That reminds me, I never got a picture of the invitations that I made.

Now I shouldn't tease DH too much because the poor man has been working hard. He was away all week and between last weekend and this past one, he was able to put in the laminate flooring in the living room :o) It's going to look great for the party! I know there are some of you anxiously waiting for pictures of our renovations and I will be posting those of the extra bedroom later this week so keep your eyes peeled ;o)

Since my appointment was cancelled today because of the snow, I'm going to sit back with a good movie and stitch some more on Stargazer. Stay warm everyone!