That's what happened Wednesday night shortly after 9 pm :o( Can you guess how many hours our power was out????
A storm moved in on Wednesday morning, starting with snow. Around lunch time, the ice pellets started coming down and then by supper time it was pouring rain. As evening drew near, the colder it became and therefore the freezing rain started :o( I didn't think much of it and even when we looked out the windows, there wasn't any heavy ice forming on the trees or power lines.
Shortly before 9 pm, the power started going on and off, about four times. On the fifth time, it stayed off. Luckily I have a laptop so my battery automatically kicked in :o) DH yelled from the bedroom that I shouldn't use up all my battery power just in case this was a long lasting power outage. Good thing I listened to him ;o)
During the night, I kept rolling over and looking at the clock to see if the power had come back on but there was just blackness looking back at me. Around 4 am, Brie came tip toeing down the hall to our bedroom so we put her in the bed with us. Needless to say, DH and I didn't get much sleep from that point on. LOL!
Yesterday morning, we hit the twelve hour mark at 9 am and still no power. No phone either! I was dressed in layers of two so I could keep warm ;o) The only source of heat that we have in the house is electric so we were starting to worry that if this went on for another twelve hours, we might have to drain the pipes, pack up the furry kids and head somewhere warm. Having candles everywhere can only do so much ;o)
It's amazing how much we do rely on power and how we think of it as a normal every day thing. I can't tell you how many times I went into a room and automatically went for the light switch ;o) You're pretty limited with things you can do as well. Since I had no television, radio, stove, microwave, or water, I decided to use the time to be creative! I dug out my beading supplies and this is what I came up with -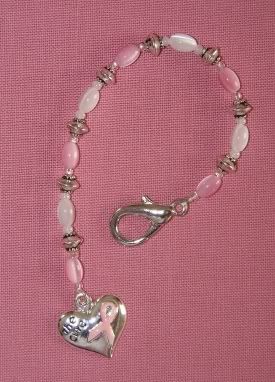 This is my first attempt at a fob and I'm really happy with it. It's actually going to be a gift for someone. A long overdue thank you :oS
When the phone rang I nearly jumped out of my skin but at least I knew the phone lines were back up! LOL! At 10 am, I finally gave in and called the power company. They said their estimated time for our area would be around noon time. I watched power truck after power truck going by. The word was there were around 10,000 customers without power.
Around 12:10 pm, the furnace kicked on so I knew our power was back up and running. Woohoo! So in total, it was fifteen hours. We consider ourselves lucky though because there were some that weren't going to get it back until midnight! Yikes! Needless to say, I was never so happy to flush a toilet. LOL!
I will leave you with a picture I took last week of some ice coming out of the down spout from the eaves trough -