Dum da-da dum! This is Briar Rabbit by La-D-Da -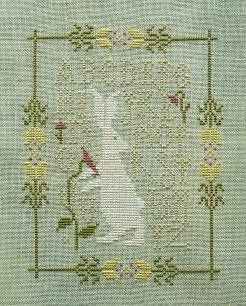 I really like this pattern but I'm a little disappointed with the color of the letters. They don't seem to stand out like they should. I didn't use the Needlepoint Silks that the pattern called for but opted for the DMC threads that were suggested. Maybe when it's framed, it will look better. I do love the fabric though and I used the same color, 18th Century Rook by R&R Reproductions, but I stitched the pattern on 30 count instead of the 35 count that was used. I can tell you one thing, the picture of the pattern on the leaflet does not do this pattern justice!

It looks like a very HOT and HUMID week ahead of us and this does not thrill me in the least :o( The humidity is hard on my body and the pain really hits the roof during these times. My hands and feet have really suffered this summer. It's almost like someone took a sledgehammer and broke all the bones in my fingers and toes. Not much fun. And most of us know that when I can't stitch, I get grumpy ;o)

Because of the icky weather coming up, I'm not sure if I will tackle the next block on my afghan or not. I did pull out a small project for this weekend but we'll see how I feel after that. We've been doing really well at keeping the house somewhat comfortable. No A/C here :o(

DH and I had a hard night last night and both of us are running on little sleep. We were both up around 5 am and as soon as we started talking, a certain someone (Brie) came tip toeing down the hallway and into our bedroom :o) DH picked her up and put her in bed with us. She spooned with me for a while, her head using my arm as her pillow, until I finally gave up and got up. She remained in bed until DH got up. Brie is a funny little dog! She is definitely a great source of heat in the winter but boy; she's not one you want to cuddle with when it's 30 C outside! LOL!