Gee, I didn't realize that I haven't posted since Monday :o( It's been a busy week here, resulting in me staying home from work today. I almost fainted when I woke up and saw that it was 1:30 PM! Needless to say, I am very tired out and obviously needed the rest.

This week was awesome as far as mail goes ;o) It was nice to finally see some goodies arrive by post again. It's really hard to get ecstatic over a phone bill. Believe me, I tried. LOL! Here's what arrived this week -



I want to thank Sandy from San Man Originals for the care that she puts into every order. I only bought a dollar chart (bunny of course) and it still arrived all wrapped up with a free chart and the ladybug pencil :o) Drema spoiled me with Seashell Silhouette by Imaginating, Briar Rabbit by L-D-Da, 30 count 18th Century Rook Linen by R & R Reproductions (for Briar Rabbit), Mill Hill beads (to finish Giggles) and four GASTs (Red Plum, Tropical Ocean, Flax and Cidermill Brown). Last but not least, some Oh-So-Gorgeous fabric from Daisy Stitches. This is my first fabric from Enchanted Fabrics (Ocean Depths) and it's very comparable to Heaven Lee Creations fabric, IMHO. The color swatch on Despina's website is not even close to this gorgeous shade of blue.

Yesterday I was surprised by a package from my friend Pam :o) We had just talked on the phone earlier in the week and I guess she didn't waste any time getting her care package out! Look at all the goodies!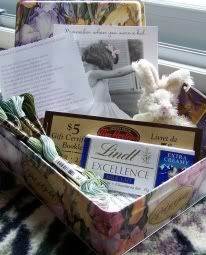 Would you believe that bunny is chocolate scented???? Pam knows the way to my heart ;o) And I do have to apologize Pam, there were three Lindt chocolates in there but now there are two in my tummy and one in DH's. LOL! Pam also donated some floss to my Two By Two afghan project. You know, at first I thought it was silly to put up my floss list but now it's turned into something I never even thought of. Do you realize that each person that donates floss is going to be a part of this project? How amazing is that! It truly will be something special in the end :o) If you want to donate some floss, you can find my wish list down the right hand side of my Blog.

Finally, I thought I would post a picture of what I'm currently working on -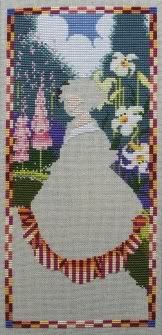 Yes, Gathering Eggs popped her head out again and I'm very pleased with the progress I have made. I may even finish her! That's today's goal anyway ;o)