She's done! She's done! She's done, she's done, she's done! Done, done, done! Done, done, done! Here is Gathering Eggs by Mirabilia FINALLY completed -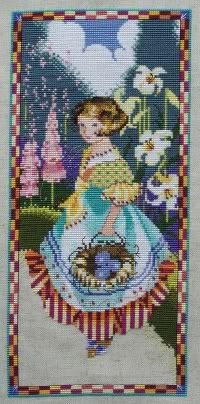 I'm still not as attracted to this piece as I thought I would be :o( I made quite a few changes with the backstitching in order to make things blend a little better and not look so harsh and heavy. I decided not to do the daisy stitches in her dress and on her shawl because I thought it was just too much. I don't think their absence will be missed. I only used one strand of the metallic gold for the ribbon around her neck.


I'm not sure how well it's going to stand out but I think the two strands would have looked too bulky. Gathering Eggs was stitched on 28 count Natural Pearl Linen. This is a NICE fabric! If you ever get the opportunity, try it out :o)
Btw, it seems that every picture I see of Gathering Eggs on the internet, shows her
facing the other way
. Is this just me or is she supposed to? I got my pattern from the April 1998 issue of Better Homes & Gardens Cross Stitch & Needlework magazine so I have never seen her out in the actual pattern form. Any thoughts or ideas as to why this is?
So what's next in line? I do have a small project put aside but I'm not sure if I'll take the time to stitch that right now or not. I do have the first two blocks of my Two By Two afghan all kitted up and I'm dying to stitch one up so I imagine that will be next ;o) The house is still cool so I won't mind sitting underneath the afghan, at least until July. Maybe...
This stupid cold has decided to hang around a little longer than I had hoped. I was feeling much better on Monday and went to work. Last night I woke up with the sore throat again. Come on! I think I have suffered enough already! And the snot...I can't believe how much snot has come out of my nose. It's never ending and I have no idea where it's being stored. I have piles of Kleenex everywhere. This morning I woke up and found myself just about to blow my nose on the bed sheet! I tell you, there is nothing dignified about having a cold.