If you are not from Canada or a die hard Maritimer, you might not be familiar with this word. Want to guess what it means? To make things easier, I'll give you a multiple choice question :o) A fiddlehead is:

a) the end of an arrow
b) a young fern
c) someone who enjoys playing the fiddle

If you picked...










B, you would be correct! Let me introduce you to, what is considered a New Brunswick delicacy, the fiddlehead -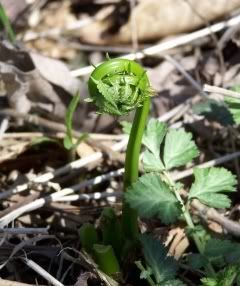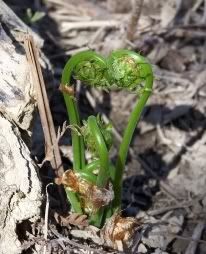 Would you believe that this tiny plant causes a stampede every spring? I compare it to the gold rush. Literally. Pickers have their secret or staked out spots and these are carefully watched over until the first fiddlehead starts poking its head out of the ground. That's when a frenzy of picking begins! The picking timeline is very short because in no time flat, these curled up plants will unfurl themselves and produce a mature fern -


Have I gotten your taste buds going yet? I did call fiddleheads a delicacy but I'm not your typical Maritimer. Yes, I have eaten fiddleheads before. Am I fond of them? Let me put it this way, if there was nothing else to eat, I would at least survive ;o) Fiddleheads are typically steamed and then slathered with butter. I've seen other recipes that add oil, vinegar and garlic but a little camouflage is not going to hide the fact that it's a fern. Okay, if you want to get brave enough and try these plants, maybe a
Fiddlehead Omelette
wouldn't be so bad.


I'm not a complete ignorant Maritimer though ;o) Give me lobster, give me clams, give me maple syrup or give me smoked salmon any day of the year! Fiddleheads are...ferns! Plain and simple. FERNS! Nothing scrumptious about that to me :oP