It seemed that Santa arrived again while we were sleeping. I guess that must have meant that I was a really good girl this year ;o) DH, in an attempt to make my Christmas perfect, had stuffed my stocking full of goodies, placed a card on the tree and prepared a scrumptious breakfast by candlelight. I was so touched that he did this considering we had agreed no to do anything for each other this year but then again, we never listen to each other ;o) My sweetie got me all of my favorite things - a box of chocolate covered cherries (Lowney's of course), four delectable truffles by Godiva, a pack of Scratch & Win tickets (in which I won $10 from!), a CD (Matt Dusk ~ swoon!), fuzzy socks (to match my pajamas) and a book (Nobody's Mother, Life Without Kids by Lynne Van Luven). Am I spoiled or what! :o) The "kids" each got their own gift. Pickles got a package of Carrot Slims and unbelievably he loves them! Do you know how hard it is to buy for a rabbit???? Brie got a stuffed toy with TWO squeakers in it and Duncan got a nice big doggy bone :o)



After breakfast we packed up the car, with both dogs in tow, and headed down to the ocean to spend Christmas with DH's family. It was a beautiful day, with no snow in sight, and we could have swore it was early fall. Once everyone arrived and we were somewhat settled in, the gift opening began! With eight adults, one baby and SIX dogs, you can just imagine what kind of madhouse we had going :o) All the gifts were wonderful and well thought out. My MIL loved the Flower Lady that I stitched for her -



Our nephew, and his parents, was pleasantly surprised by his new Dory Rocker that my FIL made -



I was very touched by the lovely cabinet that I received from my in-laws :o) DH put it up in the living room for me and it now holds a few of my special horse models -



In all the giving and receiving, the dogs were not forgotten in the least! While we had hors d'oeuvres, the dogs got biscuits and dip (I kid you not!). Each dog received a bag of handmade cookies by my MIL, a special Christmas hanky from my SIL/SO, and a toy from my other SIL/BIL. Brie decided to pose with her hanky on but the way DH took the picture, it looks like she is sporting a pair of bunny ears :o)



We "attempted" to take a picture of all the dogs together but this was the best we could do -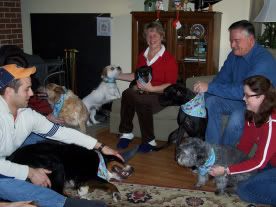 From left to right we have Misha (Burmese Mountain Dog), Duncan (Australian Cattle Dog), Samson (a mix of Jack Russell and Lhasa Apso), Brie (Miniature Dachshund), Briar (Boxer) and Buddy (a Terrier mix). You try to arrange a picture with six unruly dogs and see how easy it is ;o)

My MIL put on a wonderful Christmas dinner as always. Everything was delicious and again, I behaved myself :o) While we waited for dessert and for our supper to settle, we decided to put on a fire...OUTSIDE! Yes, it was THAT nice that the boys went out and built a small campfire overlooking the ocean. I can't tell you how peaceful and tranquil it is down there. My MIL figures this should be our new Christmas tradition and I for one agree, just as long as we have the same nice weather year after year ;o) Instead of marshmallows, we snacked on a Chocolate Explosion Lava Cake for dessert and was it ever yummy! I will see about getting the recipe from my MIL if anyone is interested.

For our evening finale, we all participated in a rip roaring IQ game :o) I have come through it knowing that I am just as smart, or dumb, as those around me. LOL! It really is a neat game though so I will leave you with another brainteaser -

How many times does the digit 3 show up between the number 1 and 50?
For the one person that guessed and guessed correctly, 15 it is!
If you think you know the answer, post it in the comment section :o)
I hope everyone had as wonderful a Christmas as I had!